MetalForming Xtra Feature
March 8, 2017
Wednesday, March 8, 2017
If you are having trouble viewing this email, view it online
Follow Us on

Twitter | LinkedIn | Facebook | MetalFormingMagazine.com
Manufacturing Continues its High-Flying Act

The U.S. manufacturing sector expanded again in February, growing for the sixth consecutive month, according to the latest executive survey from the Institute for Supply Management (ISM). The ISM Purchasing Managers' Index came in at 57.7 percent, a 1.7-point increase over January and the highest total since August 2014. Any score above 50 percent indicates manufacturing growth.

Indexes for new orders (up 4.7 percent) and production (1.5 percent) also increased for the sixth consecutive month in February. And, order backlogs increased for the first time in eight months, as that index rose by 7.5 percent.

Here's more.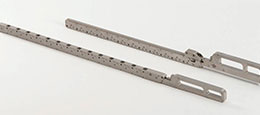 PFA Makes Die Positioning Easy

PFA Mechanical Die Lifters are actuated by hand to the lifted position prior to die insertion and then released to lower the die. They are portable and can be taken from press to press. These units can be used in multiple presses, greatly reducing QDC equipment costs.

Jet Edge Waterjets Ideal
for Service Centers

Built for industrial use, Jet Edge waterjets are available in a wide range of sizes, 5'x5' to 24'x13.' Add multiple cutting heads to maximize productivity. Service center applications include cutting bevels for weld preparation, cutting parts to near net shape, cutting exotic materials, and HAZ-free and slag-free cutting.
Hot Off the Press



The authority on late-breaking metalforming news. Stay ahead of the curve!

Today's News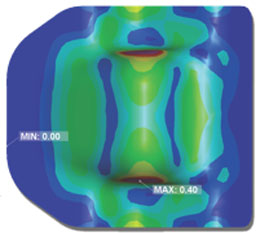 Uncover Design Flaws
with DYNAFORM

Uncover hidden design flaws before prototyping with accurate stamping simulations. DYNAFORM is a simulation software solution that allows engineers to accurately simulate stamping and Predict Formability Issues, Reduce Development Time, Validate Die Design, Improve Efficiency and Increase Profitability. DYNAFORM ensures the highest quality formed part & most efficient manufacturing process possible.

Try DYNAFORM Today
$26-Million La-Z-Boy Expansion Includes 3D-Printing Lab

La-Z-Boy is pumping $26 million into its largest U.S. manufacturing facility, in Dayton, TN, to construct a new 70,000-sq.-ft. Innovation Center and upgrade operations. The new complex will house a model shop, technology center, test lab and 3D-printing lab. Construction is expected to wrap in mid-2018, with equipment upgrades to follow.

The 1.2-million-sq.-ft. Dayton complex, with 1400 employees, began operations in 1973. It location includes metal-stamping operations that provide parts for the company's four other U.S. manufacturing sites.

Read more.
Manufacturers: Mind the Marketing

In manufacturing, the ways to compete and differentiate have changed. Why do manufacturers need to focus on marketing? Take this cue from speaker/author Andrea Olson in her article, "Why Have Marketing in Manufacturing," at ManufacturingGlobal.com:

"Manufacturers need to go back to their entrepreneurial roots and identify new, innovative ways to serve their markets. …Marketing is the catalyst for invention, through customer insight and engagement. …Marketing can (and should):

• Use business intelligence and customer behavior to identify and drive new sales opportunities
• Expand the identity and presence of the company in the market, in an impactful, differentiated way."

Here's the case for the importance of marketing for metalformers and fabricators of any size.

Read more.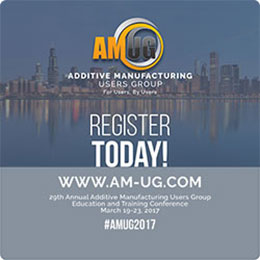 AMUG to be held March 19-23, 2017, in Chicago, Illinois

The Additive Manufacturing Users Group (AMUG) will take place March 19-23, 2017, at the Hilton Chicago. The AMUG Conference will include keynote presentations, technical sessions and hands-on workshops designed to help users get more from their additive manufacturing technologies. Through technical competitions and the annual Awards Banquet, excellence in applying additive manufacturing and contributions to the industry will be recognized. The five-day event also includes the two-night AMUGexpo, networking receptions and catered meals. Get more information and register at www.am-ug.com.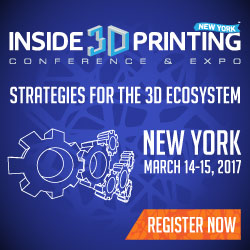 Inside 3D Printing New York

March 14-15

Inside 3D Printing is returning to NYC for its fifth year! Join us at the Javits Convention Center on March 14-15 to hear cutting-edge updates from industry heavyweights, innovators, and investors who are delivering on the promise of 3D printing. Dedicated tracks cover 3D printing innovation in metal, manufacturing, business, and medicine.

Use discount code "METALFORMING" for 15% off your Two Day Pass, One Day, or Track Pass at checkout.

Register Now!
March 2017


Subscribe | Become a Sponsor | Media Kit
In-Die Sensing: Do It Now!
That's the advice of a sensor expert who has seen more than his share of profit-eating die crashes, bad parts, and wasted time and material.
Recipe for Resistance Spot-Welding Success
Here's a quick "cooking class" for resistance welding, honing in on pressure, current and time. Without an understanding of these variables and their relation to one another, weak or inconsistent welds, or complete weld failure, often will result.
Upcoming Issues
April: Hydraulic Presses, In-Die Feeding/Fastening, Laser Cutting
May: Stamping Higher Strength Steels, Press Feeds, Waterjet Cutting
June: Lubrication, Mechanical Presses, Punching
MetalForming : Jobs



Connecting job seekers and employers in the metal stamping, forming, fabricating and tool & die industries.

Roll Forming Set-up Operator


Johnson Bros Metal Forming Co. (IL)
See also: PFA, Inc., Jet Edge Waterjet Systems, ETA Dynaform, IQMS Manufacturing ERP & MES
Visit Our Sponsors