Page 8 - MetalForming-Aug-2018-issue
P. 8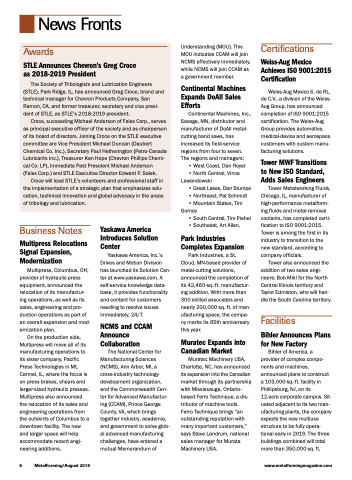 News Fronts
Understanding (MOU). This MOU indicates CCAM will join NCMS effectively immediately, while NCMS will join CCAM as a government member.
Certifications
Weiss-Aug Mexico Achieves IS0 9001:2015 Certification
Weiss-Aug Mexico S. de RL. de C.V., a division of the Weiss- Aug Group, has announced completion of ISO 9001:2015 certification. The Weiss-Aug Group provides automotive, medical-device and aerospace customers with custom manu- facturing solutions.
  Awards
STLE Announces Chevron's Greg Croce as 2018-2019 President
The Society of Tribologists and Lubrication Engineers (STLE), Park Ridge, IL, has announced Greg Croce, brand and technical manager for Chevron Products Company, San Ramon, CA, and former treasurer, secretary and vice presi- dent of STLE, as STLE's 2018-2019 president.
Croce, succeeding Michael Anderson of Falex Corp., serves as principal executive officer of the society and as chairperson of its board of directors. Joining Croce on the STLE executive committee are Vice President Michael Duncan (Daubert Chemical Co. Inc.), Secretary Paul Hetherington (Petro-Canada Lubricants Inc.), Treasurer Ken Hope (Chevron Phillips Chemi- cal Co. LP), Immediate Past President Michael Anderson (Falex Corp.) and STLE Executive Director Edward P. Salek.
Croce will lead STLE's volunteers and professional staff in the implementation of a strategic plan that emphasizes edu- cation, technical innovation and global advocacy in the areas of tribology and lubrication.
 Continental Machines Expands DoAll Sales Efforts
Continental Machines, Inc., Savage, MN, distributor and manufacturer of DoAll metal- cutting band saws, has increased its field-service regions from four to seven. The regions and managers:
• West Coast, Dan Royer
Tower MWF Transitions to New ISO Standard, Adds Sales Engineers
• North Central, Vince Lewandowski
• Great Lakes, Dan Stumpe • Northeast, Pat Schmidt • Mountain States, Tim
Tower Metalworking Fluids, Chicago, IL, manufacturer of high-performance metalform- ing fluids and metal-removal coolants, has completed certi- fication to ISO 9001:2015. Tower is among the first in its industry to transition to the new standard, according to company officials.
 Business Notes
Yaskawa America Introduces Solution Center
Gorney
• South Central, Tim Piehel • Southeast, Art Allen.
Multipress Relocations Signal Expansion, Modernization
Park Industries Completes Expansion
Multipress, Columbus, OH, provider of hydraulic-press equipment, announced the relocation of its manufactur- ing operations, as well as its sales, engineering and pro- duction operations as part of an overall expansion and mod- ernization plan.
Yaskawa America, Inc.'s Drives and Motion Division has launched its Solution Cen- ter at www.yaskawa.com. A self-service knowledge data- base, it provides functionality and content for customers needing to resolve issues immediately, 24/7.
Park Industries, a St. Cloud, MN-based provider of metal-cutting solutions, announced the completion of its 42,460-sq.-ft. manufactur- ing addition. With more than 300 skilled associates and nearly 200,000 sq. ft. of man- ufacturing space, the compa- ny marks its 65th anniversary this year.
Tower also announced the addition of two sales engi- neers: Bob Mikl for the North Central Illinois territory and Taylor Edmiston, who will han- dle the South Carolina territory.
 On the production side, Multipress will move all of its manufacturing operations to its sister company, Pacific Press Technologies in Mt. Carmel, IL, where the focus is on press brakes, shears and larger-sized hydraulic presses. Multipress also announced the relocation of its sales and engineering operations from the outskirts of Columbus to a downtown facility. The new and larger space will help accommodate recent engi- neering additions.
The National Center for Manufacturing Sciences (NCMS), Ann Arbor, MI, a cross-industry technology development organization, and the Commonwealth Cen- ter for Advanced Manufactur- ing (CCAM), Prince George County, VA, which brings together industry, academia, and government to solve glob- al advanced-manufacturing challenges, have entered a mutual Memorandum of
Muratec Expands into Canadian Market
Bihler Announces Plans for New Factory
6 MetalForming/August 2018
www.metalformingmagazine.com
NCMS and CCAM Announce Collaboration
Facilities
Muratec Machinery USA, Charlotte, NC, has announced its expansion into the Canadian market through its partnership with Mississauga, Ontario- based Ferro Technique, a dis- tributor of machine tools. Ferro Technique brings "an outstanding reputation with many important customers," says Steve Landrum, national sales manager for Murata Machinery USA.
Bihler of America, a provider of complex compo- nents and machines, announced plans to construct a 103,000-sq.-ft. facility in Phillipsburg, NJ, on its
12-acre corporate campus. Sit- uated adjacent to its two man- ufacturing plants, the company expects the new multiuse structure to be fully opera- tional early in 2019. The three buildings combined will total more than 350,000 sq. ft.