Hot off the Press
Epicor ERP Conference Opens with Identification of Mobile, Cloud and Other Trends
Tuesday, May 22, 2018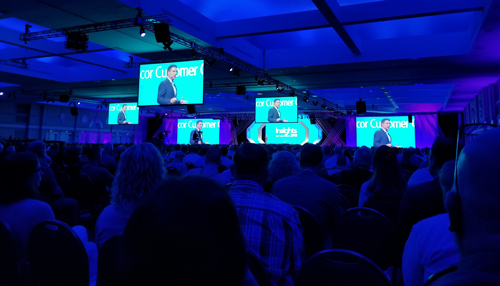 On location at Insights 2018, the customer conference of ERP-systems and -services provider Epicor, MetalForming and its sister publication, 3D Metal Printing, took in President and CEO Kevin Murphy's keynote address to kick off the Nashville, TN, event this morning. In his presentation before 3400 attendees, Murphy, while optimistic about the North American and worldwide economy, identified major production planning and scheduling forces that are impacting manufacturers. These include the continuing mobile trend, which empowers everyone along the production chain to quickly obtain, relay and act on information. Another, cloud, points to growing trust in digitized data stored and readily available without requiring a significant internal IT investment.
Murphy also highlighted the growing influence of millennials as manufacturers explore enterprise-wide production solutions, noting that this generation of the workforce has high expectations of information availability and accuracy. Another trend: the embrace of artificial intelligence and highly automated machinery, tied together digitally. This allows, more than ever before, Murphy says, for manufacturers to locate nearly anywhere.

---
Reader Comments
There are no comments posted at this time.
Visit Our Sponsors