Hot off the Press
Material Sciences Corp. Wins Lightweighting Award
Thursday, August 22, 2019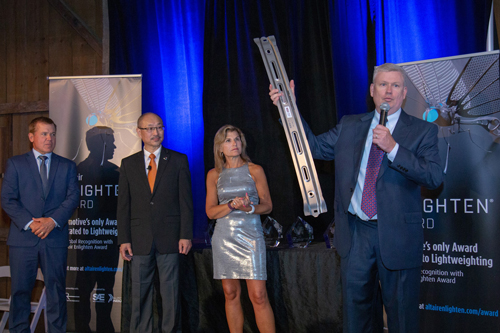 Shown receiving the Altair Enlighten award:Pat Murley, MSC CEO (far left) and Matt Murphy MSC chief technology officer (far right). Richard Yen, Altair senior vice-president, global automotive (center left) and Carla Bailo, president & CEO at Center for Automotive Research (center right) presented the award. Murley is holding a 2020 Lincoln Aviator roof bow, a first application of MSC award-winning Smart Steel.
Material Sciences Corporation (MSC), Canton, MI, was honored earlier this month with a
2019 Altair Enlighten Award
for its
MSC Smart Steel
, a new multilayer steel laminate engineered as a direct substitute for low carbon steel stamped vehicle body parts. Offering a 20- to 40-percent mass savings compared with same-thickness standard steel, MSC Smart Steel is produced as a coil, stamped in conventional dies, spot welded with existing equipment and processed through standard electro-coat and paint systems. This is the first ever spot-weldable, low-density composite laminate used in a body application.
"MSC Smart Steel will make its first appearance in the automotive industry as roof bows on the 2020 Lincoln Aviator and the 2020 Escape/Corsair platforms," says Matt Murphy, MSC chief technology officer.
The Altair Enlighten Award is automotive's only award dedicated to vehicle lightweighting.
Related Enterprise Zones: Materials/Coatings
---
Reader Comments
There are no comments posted at this time.
Visit Our Sponsors