New Product Article
Handheld Air-Plasma Cutter Pierces 5/8-in.-Thick Metal
Tuesday, June 18, 2019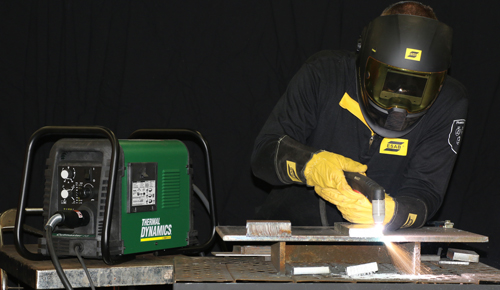 Thermal Dynamics, an Esab brand, has debuted the Cutmaster 58 handheld air-plasma cutting system, a reintroduction of the Cutmaster 52 that has been upgraded to include the SL60 QD (quick-disconnect) 1Torch as standard. The power-to-weight ratio of this 60-A, 43-lb. unit is ideal for fabricators, general and mobile contractors, farmers, maintenance and repair personnel, and truck/autobody shops, according to company officials. It can pierce 5/8-in.-thick mild steel, stainless steel or aluminum, and offers a maximum sever capacity of 1.25 in.
The Cutmaster 58 features a tubular roll bar that protects the front and rear of the power supply and makes it easier to carry, and color-coded LEDs on the front panel that indicate gas-pressure status and setup errors. The unit accepts single- or three-phase 208-480- primary power to provide location flexibility.
It offers a purge mode for clearing the gas line and setting gas pressure, as well as three process modes: standard cutting mode; trigger latch mode, allowing the operator to release the trigger to prevent hand fatigue during longer cuts; and expanded metal mode, which instantly reignites the pilot arc while cutting expanded metals such as grates and chain link fences.
"The Cutmaster 58 offers excellent gouging performance," says Kris Scherm, global manual plasma business and product director for Esab. "For gouging, set the control knob to the expanded-metal mode. If the cutting arc extinguishes as a result of excessive torch manipulation, it will instantly reignite the arc."
See also: ESAB Welding & Cutting
Related Enterprise Zones: Fabrication
---
Reader Comments
There are no comments posted at this time.
Visit Our Sponsors