New Product Article
Desktop Waterjet Cutter
Monday, March 18, 2019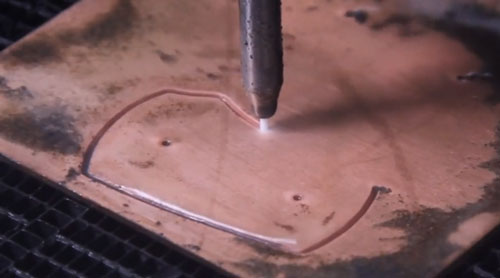 Wazer, a low-price-point desktop waterjet cutter from a New York startup of the same name, features a cut area of 12 by 18 in. and can cut aluminum in thicknesses to 0.50 in. and mild steel to 0.25 in. It also reportedly can cut titanium, aluminum, glass, stone, tile and carbon fiber. The introduction makes waterjet cutting technology accessible to small businesses and schools, according to company officials, who initially developed the concept as Engineering students at the University of Pennsylvania.
The Wazer enables users to iterate quickly on designs without having to spend time and money sending their projects out to be made by an external waterjet-cutting service. Also, the machine enables larger manufacturers to use it for prototyping and low-volume manufacturing without tying up larger machines.
Its high-velocity jet combines high-pressure water and sand-like abrasive particles to cut through the workpiece, reportedly achieving a high level of precision. Simple to set up with no special electrical or water requirements, the fully contained Wazer runs on 110-V AC/ 60Hz and only requires a water source such as a sink or a hose pipe along with a drain.
See also: Wazer
Related Enterprise Zones: Fabrication
---
Reader Comments
Posted by: levi olson on 3/20/2019 4:37:30 PM
7499 according to wazer.com
---
Posted by: Kalin on 3/20/2019 3:31:47 PM
Anyone get a price
---
Posted by: Art Nelson on 3/20/2019 2:38:42 PM
Yes. Price please
---
Posted by: Efrain E. Cantu on 3/20/2019 1:25:12 PM - URL: www.formec.com.mx
Just by curiosity, how much does this desktop waterjet cost?
---
Visit Our Sponsors