Hot off the Press
Champion Aerospace Signs Youth Apprentices
Wednesday, December 4, 2019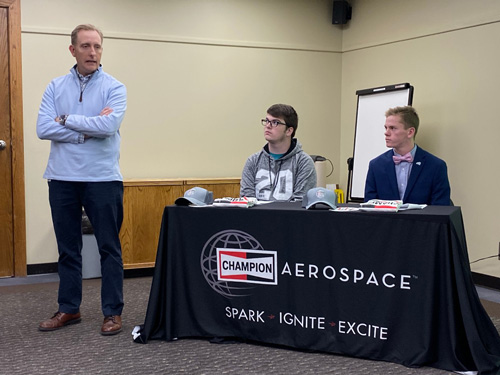 Jason Marlin, president of Champion Aerospace, welcomed student apprentices Trenton Riddle, left, and Steven Chappell, at the company in Liberty, SC. Apprentice Breanna Cathcart was unavailable. (Photo/Teresa Cutlip)
National Signing Day for high school athletes is widely known, but a
signing day for high school manufacturing apprentices
? That's what Champion Aerospace, LLC, a Liberty, SC-based provider of aerospace ignition and power systems recently held. And why not? It was the Champion apprenticeship program, which combines on-the-job learning and job-related education, that gained Champion Aerospace President Jason Marlin his career start as an apprentice. Later, the company hired him.
"And the rest is history for me," Martin said during the signing event, telling the three recently signed high school apprentices that "you'll get to test us and see if this is a place where you want to work, and it's our opportunity to test you as young talent in the market." Assigned departments for the three apprentices: materials and logistics, welding and supply chain management.
"We've worked with the colleges and tech schools like Clemson, Greenville Tech and Tri-County Tech," Marlin said. "Now we're developing future talent for our company at a younger age. This signing day represents the beginning of that process."
Related Enterprise Zones: Training
---
Reader Comments
There are no comments posted at this time.
Visit Our Sponsors