Hot off the Press
Bystronic Groundbreaking Signals U.S. Commitment
Friday, September 21, 2018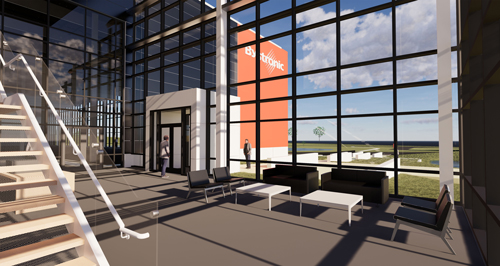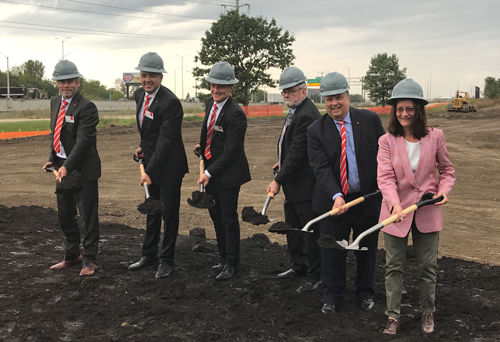 Bystronic executives hoist shovels during groundbreaking ceremonies for the company's new headquarters, scheduled for completion next summer, and where customers will experience current and future sheetmetal technologies and services. Shown left to right in the bottom photo: Sven Künkels, COO, Bystronic Group; Alex Waser, CEO, Bystronic Group; Johan Elster, head of business unit markets, Bystronic Group; William D. McLeod, mayor, Hoffman Estates, IL; Bob St. Aubin, president, Bystronic Inc.; and Cornelia Gehrig, CFO, Bystronic Group.
Demonstrating its long-term commitment to the United States market, an executive team from
Switzerland-based Bystronic Laser AG
joined representatives of
Elgin, IL-based Bystronic, Inc.
earlier this week during an official groundbreaking ceremony for Bystronic's U.S. corporate headquarters, scheduled for completion next summer in Hoffman Estates, IL.
"The Eagle has landed," quipped Bystronic Laser CEO Alex Waser. "We are confident in the U.S. market and our team, and we continue to build our success story as we transition from simply a manufacturer of machines to a solutions provider."
Robert St. Austin, president of Bystronic, Inc., observed that at 165,000-sq.-ft., the new facility will be more than three times the size of Bystronic's current headquarters. Inside, visitors will find a 30,000-sq.-ft. Experience Center/Showroom with laser-cutting innovations, integrated automation and storage solutions, flexible bending systems, tube- and profile-processing systems, advanced processing software, and customized live demonstrations. A 90,000-sq.-ft. machine-assembly area for laser and automation systems will employ about 100, more than twice as many as the current facilities. Remaining space will be used for sales, service, spare parts and the refurbishing of used machines.
---
Reader Comments
There are no comments posted at this time.
Visit Our Sponsors