Hot off the Press
Omax Celebrates 25th Anniversary
Monday, July 30, 2018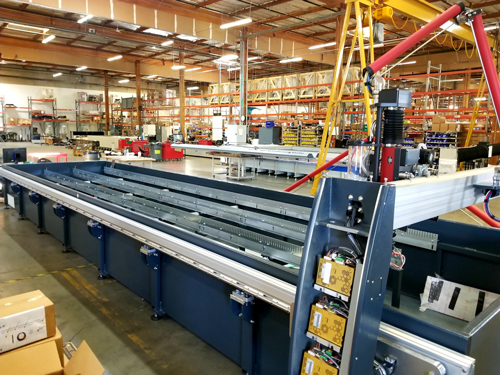 A large-table waterjet-cutting machine under construction at Omax' manufacturing facilities in Kent, WA.
Celebrating its 25th year providing waterjet-cutting technology, Omax Corp. held an open house and tour on July 27, inviting customers, partners and associates to its Kent, WA, home. Since Dr. John Cheung and Dr. John Olsen founded the company in 1993 and introduced its first waterjet machine, Omax has grown to occupy 220,000 sq. ft. of space on its Kent campus, employing more than 400 associates and amassing more than 50 patents.
The anniversary-event tour featured a look at the company's R&D and training efforts as well as its software and customer-service operations. Visitors, MetalForming included, toured manufacturing operations, including those that produce the GlobalMax and ProtoMax product lines, both introduced in 2017.

For more, visit www.omax.com.
---
Reader Comments
There are no comments posted at this time.
Visit Our Sponsors