Hot off the Press
China Welcomes Daimler's 9th Fagor Arrasate Blanking Line
Monday, May 14, 2018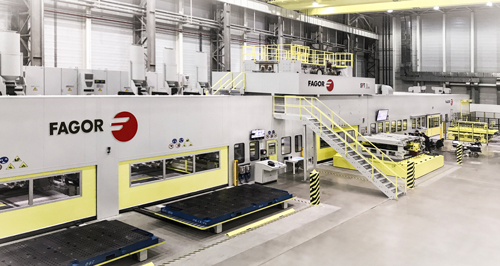 Daimler, the German automotive company, has once again collaborated with Spain's Fagor Arrasate on a dual-servo steel and aluminum blanking line. The ninth such line was installed at the Beijing Benz facility in Beijing, China, and placed into full production in January.
The 800-ton servo press with Linkdrive 180mm stroke and speeds to 85 strokes/min., combined with Fagor entry and exit equipment, handles steel to 950 N/mm² and series 5000 and 6000 aluminum. The entry-terminal equipment handles 30-metric-ton (33-U.S.-ton) coils. The line is configured with entry coil storage, coil car, movable decoiler, threading tale, feed rolls capable of handling dry or oily material, hydraulic crop shear, cleaning brushes, and a Fagor 19 roll cassette corrective leveler. The stacker, a combination magnetic/vacuum, allows for quick changeover between steel and aluminum product.
Fagor Arrasate will supply Daimler's 10th dual servo blanking line at its Bremen, Germany, facility later this year in the 4th Quarter of 2018.
For more,
www.fagorarrasate.com
.
---
Reader Comments
There are no comments posted at this time.
Visit Our Sponsors