The Science of Forming
Know Your Sheetmetal Terminology--Part 2
Thursday, March 1, 2018
Sheet mills produce grades to the requirements outlined in specifications, which typically are issued by the end user, national/international bodies such as ISO or ASTM, or industry organizations such as SAE or the Aluminum Association. These documents contain grade-by-grade requirements for tensile and ductility levels, flatness and width tolerances, and chemistry ranges.
Consider a grade you've probably heard of: AISI 1008/1010. The problem is, in spite of appearing on many part prints, it's not really a grade. The American Iron and Steel Institute no longer publishes materials grade specifications—SAE International took over those efforts long ago. SAE J403, Chemical Compositions of SAE Carbon Steels, is the specification covering the naming convention and required chemistry of carbon steels.
SAE grades are described by a four-digit number—1008, 1050 or 4340, for example. The first two digits reflect the major alloying elements, such as 10XX for plain carbon steels with a maximum manganese content of 1 percent, or 43XX used for nickel-chromium-molybdenum steels. The last two digits indicate the nominal carbon content in hundredths of a percent. For example, the nominal carbon content of 1008 steel is 0.08 percent, 0.10 percent for 1010 steel and 0.40 percent for 4340 steel.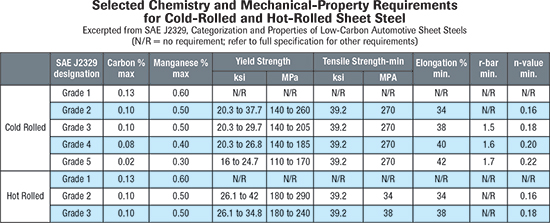 The grade designation indicates only the nominal carbon level, but acceptable ranges differ for each grade. SAE J403 grade 1008 allows for as much as 0.10-percent carbon with no minimum, which means a vacuum-degassed interstitial free steel with 30 ppm carbon (0.003 percent) is just as applicable as a steel with more than 30-times the carbon content and made without vacuum degassing. This difference alone can result in vastly different forming and welding performance within the same grade.
The SAE J403 grade-1010 specification states that steel may be supplied with carbon content from 0.08 to 0.13 percent. While this represents a tighter carbon range than grade 1008, and prevents the use of vacuum degassing, we don't know much more. Due to the tolerances on carbon, it is possible that a 1010 steel (0.08 to 0.13-percent carbon) will contain less carbon than a 1008 steel ( a maximum of 0.10-percent carbon).
What about strength and ductility? Unfortunately, specifications for grades 1008 and 1010 list no tensile requirements. We know that higher carbon content typically translates to higher strength and lower ductility. However, processing also plays a significant role in determining tensile properties.
Suppose that you order grade-1008 or grade-1010, where only chemistry limits are specified, but you also require flatness tolerances. A mill may have produced a coil that meets chemistry requirements, but with buckles or waves. Though correctable, processing to eliminate these defects involves bending and unbending over rolls, which increases strength and decreases elongation. Take two identical paper clips, then bend one of them back and forth to straighten it out. While both have the same chemistry, formability is reduced for the clip that was shape-corrected.
Since there are no tensile requirements associated with grades 1008 or 1010, the mill almost certainly will ship to you this re-rolled coil that meets the necessary flatness standards as long as order requirements are satisfied. Not only may stamping performance differ, but under most circumstances, the mill is not required to inform you of this change.
To ensure some consistency in tensile properties, you cannot order SAE J403 grade-1008 or grade-1010 steel. SAE J2329 is the low-carbon-sheet-steel specification with requirements for strength, elongation and n-value (see Table). In this spec., grade 1 represents the least restrictive steel (widest allowable properties) while grade 3 for hot-rolled or grade 5 for cold-rolled ensures shipment of the highest-formability steel.
If your company has been working with the same supplier, maybe it knows what's needed for each part or at least has a history of what has been shipped. On the other hand, when buying from various service centers, expect significant variation in the products received, even though the orders are the same.
If you experience high scrap costs, consider changing how you order your raw materials in order to better control what you receive. MF
See also: Engineering Quality Solutions, Inc.
---
Reader Comments
Posted by: Richard Cover on 3/26/2018 10:04:00 AM - URL: https://www.linkedin.com/in/rjcover/
"Know Your Sheet Metal Technology", Parts 1 and 2 are great articles - especially the informative table in Part 2. The more accurately, and completely, that material is described, the more likely that it will apply as expected.
---
Visit Our Sponsors