In the Classroom
The Business Case for Using Greener Industrial Lubricants
Friday, August 1, 2014
By Rodney Walker, vice president of technology, Safety-Kleen/EcoPower Re-refined Oil
Environmental stewardship and sustainability no longer are viewed by manufacturers as merely creating extra expense and causing tradeoffs with other company goals. Rather, the ideals of "green manufacturing" now are known for creating opportunities to reduce costs, improve safety and gain the favor of eco-responsible customers.
We see green initiatives, particularly related to lubrication, allowing manufacturers of all sizes to decrease operating expenses, improve customer feedback and improve corporate image (see Fig. 1, the Triple Bottom Line).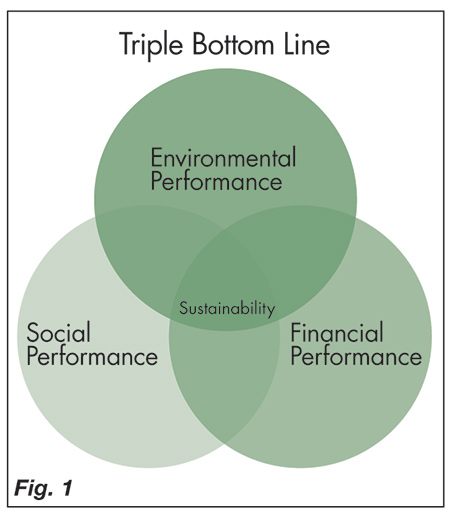 By effectively using environmentally improved products, such as re-refined hydraulic oils, manufacturers create successful environmental strategies that move them and their customers toward environmental sustainability. The connection between cost savings and developing a sustainable supply chain is strong, as noted in a recent report from Deloitte Consulting, described in an Iowa State University (ISU) report on the sustainable supply chain. Say ISU researchers:
"Leading businesses recognize that (savings opportunities in the supply chain) go beyond demanding cost cutting from their suppliers, but re-looking at their supply chain and focusing on reducing use and production of five metrics that are ubiquitous within it—energy, carbon, water, materials and waste."
How important is it that suppliers exhibit to their current and prospective customers a commitment to green practices? A recent survey of supply-chain professionals by the Professional Purchasers' Blog provides some answers to that critical question. Here are three key findings from the survey:
• Greening the supply chain is strategically important and creates value for OEMs—27 percent "strongly agree" with this statement, 28 percent "somewhat agree."

• More than half (58 percent) already are involved in greening their company's supply chain. And, when asked if they will in the future be involved in greening their supply chain, 71 percent either "strongly" or "somewhat" agreed.
• Lastly, and perhaps most importantly, more than 80 percent of purchasers favor suppliers with green practices.
One surefire, cost-effective and readily achievable path to becoming green is for manufacturers to reconsider their selection of hydraulic oil and industrial lubricants. These fluids are called on to lubricate, clean, protect and cool machinery, and to transmit power in hydraulic presses, press brakes and other metalforming and fabricating equipment. Proper performance requires fluids free of contaminants, as well as the ability to stand up to environmental affects—cold temperatures, for example, or higher oil temperatures created when manufacturers push their machines (and their respective pumps) to the limits. Hydraulic circuits are being designed smaller and more tightly sealed than ever before, so hydraulic fluids must last as long as possible.
As metalformers seek to become green and reduce greenhouse-gas emissions, they should seek to use fluids (hydraulic oils, gear oils, oils, etc.) that are cost competitive and meet higher levels of performance. All roads lead to re-refined fluids. Compared to hydraulic oils and lubricants refined from crude oil, re-refined products cost about the same yet offer significantly increased oxidation hours.
The end result: Fluids stay in the system longer, a big plus from an environmental perspective. Because of this, we attain a different type of green manufacturing. Uptime is optimized, and we achieve a higher overall equipment effectiveness (OEE). And, when we re-refine the fluid, it's good for the environment. We estimate that for every 1 million gallons of EcoPower (from Safety-Kleen, the world's largest oil re-refiner) industrial lubricants used, greenhouse-gas emissions can be reduced by more than 8000 metric tons. That's equivalent to the carbon absorbed by more than 200,000 trees for 10 years in an urban environment.
To eco-responsible OEMs and Tier One customers of a small to midsized metalformer, adding the use of re-refined industrial lubricants to your company's sustainability goals and efforts can go a long toward meeting criteria stated in RFPs (Fig. 2).
And while most other activities that lead to green can create significant added costs and organizational change management, the switch from a lubricant made from virgin crude oil to an oil made from re-refined lubricant can be accomplished at comparable cost.
What makes a good lube/hydraulic oil? First and foremost, metalformers must follow the recommendations of their pump manufacturer. Make sure the lube of choice has the approvals required regarding viscosity grade, as well as approval based on the operating environment. Viscosity index is critical, as is oxidation stability hours. This indicates fluid longevity in the system.
See also: Safety-Kleen Systems, Inc.
Related Enterprise Zones: Lubrication
---
Reader Comments
Posted by: AndrewTem on 1/8/2017 1:02:02 PM - URL: http://alco.bigwork.info/
Alco Barrier – эффективное средство, которое выводит токсины из организма после принятия спиртного и быстро восстанавливает организм. Перейти на сайт: http://alko.1stbest.info/ Перейти на сайт: http://alco.bigwork.info/
---
Visit Our Sponsors