Articles
A Die Shop in Transition
Thursday, August 1, 2013
The Lapossy brothers who own and manage Imperial Die & Manufacturing, Cleveland, OH, knew they had a unique opportunity when a long-time OEM customer in the building-hardware industry dug in and refused to outsource its latest stamping project to China. To protect its intellectual property, the OEM awarded Imperial the contract to design and build a pair of large 144-in. progressive dies for stamping electrical boxes. The job occupied much of Imperial's die-build capacity throughout 2012.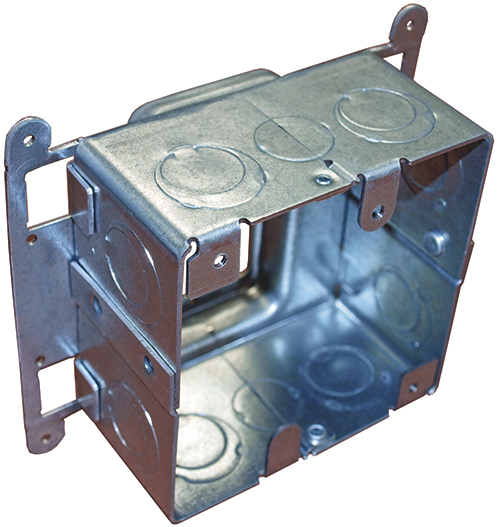 Imperial recently completed a pair of large 144-in. progressive dies to manufacture electrical boxes—single-gang (shown here) and double-gang styles. The complex and highly engineered dies include in-die tapping with $40,000 worth of Pronic tapping units; cam stations to fold up the sides; and Tox mechanical-fastening operations.
The Lapossys—Ron and Ken (two years the elder)—have been building dies at Imperial since 1959. "We built a lot of fourslide tooling back then," recalls Ron, who notes that the firm has come a long way since its original 2000-sq.-ft. Cleveland location. Among its long-time die customers (besides the building-hardware OEM mentioned above): an OEM manufacturer of decorative tailpipe extensions for the automotive exhaust market, and a thermostat manufacturer serving the appliance industry.
Describing the electrical-box dies Imperial recently manufactured, Ken Lapossy says:
"Thirteen die stations and progression feeds of 10.5 in.—that's what we had to work with to take the 1-ft.-wide strip to finished product, a very complex product at that. The dies include in-die tapping with $40,000 worth of Pronic tapping units; cam stations where we fold up the electrical box; and Tox mechanical-fastening operations."
Bringing CNC Machining Inhouse
Imperial's nearly 27,000-sq.-ft. shop typically builds 15 to 20 smaller dies per year. It also houses 14 Minster stamping presses, rated 22 to 300 tons. Much of the machining for the electrical-box die duo—each constructed of three sections that are aligned and bolted together at the stamping press—occurred on the firm's 6-yr.-old Johnford 40- by 20- by 20-in. vertical machining center (VMC).
"Before we acquired that VMC," says Ron, "we were outsourcing CNC machining. Investing in CNC machining delivered immediate results, particularly for producing complicated form tools—3D shapes. We didn't have a practical way to do that work before."
"That work" includes several recent new dies made for its hardware customer, and refurbishing worn tooling for an array of Cleveland-area customers, including a manufacturer of bakeware.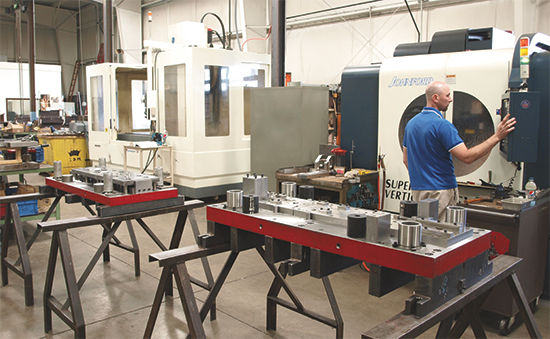 Imperial Die & Manufacturing's CNC machining operator tends to the firm's 6-yr.-old Johnford vertical machining center, while at far left sits the firm's latest acquisition: a 2002-vintage Kitamura Mycenter 7X VMC. Its measurements: 60.2 by 25.6 by 27.0 in.
"Our hardware customer had been running a lot of older dies, including some we built for them 20 to 30 years ago," says Ken. "Some of those dies, used to stamp hinges, paddle latches, grab handles and similar products, became very difficult to set in their presses. Nothing lined up, so each changeover required hours of grinding and shimming. We finally convinced the customer to invest in a new two-out die for high-volume stamping of latches and pulls. We designed and built the die to allow them to make 14 different parts without having to remove the die from the press. A setter just has to open the press, reach in and replace the stripper insert, punch holder and die block, and he's back up and running in 30 min."
Other work making its way to the Johnford VMC includes new projects for its building-hardware customer, requiring machining of D3 tool steel. "We can finish-grind this steel (an air-hardening high-carbon high-chromium grade) and provide dies with improved abrasion and wear resistance," says Ron.
Rocket Science in the Toolroom
D3 tool steels, according to industry literature, prove ideal for blanking and forming dies, as well as punches. Machining the steels, the brothers add, has been a breeze using its current stock of Seco high-speed cutters, made from ultra-fine-grain carbide with specialized coatings.
"CNC machining is 'by the books,'" says Ron. "It's a science, not observational or by feel. Rocket science has come to the toolroom. The ability to perform high-speed milling also is amazing. The machine controller can look ahead at the tool path and prepare for what's coming without having to stop and calculate the cutter path. It's looking ahead and processing the data to transition seamlessly.
"For example," Ron continues, "when remachining cake-pan dies for our local bakeware customer, we can hard-mill the contour all along the top edge, running a ball cutter at high speed to remove tiny amounts of tool steel. We just have to polish out the machine marks and we're good to go."
The brothers also appreciate the ability to perform hard milling on their VMC. "A lot of the tools we refurbish have been heattreated," says Ken, "and we don't anneal them before machining. Instead, we're able to hard-mill to rework the contours." The tool of choice: micrograin solid-carbide ball-nose end mills.
One Operator, Two VMCs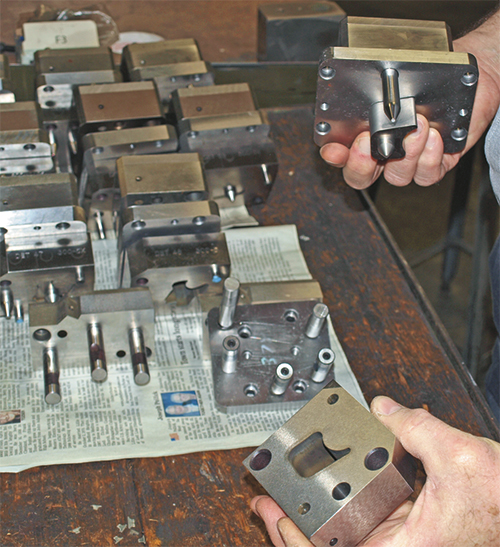 Imperial recently fabricated a new die, for its stamper-customer in the hardware-components industry, which uses the replaceable tooling shown here. The stamper can make 14 different parts without having to remove the die from the press. A setter only has to open the press, reach in and replace the stripper insert, punch holder and die block, and he's back up and running in 30 min.
CNC machining at Imperial Die leapt forward earlier this year when the Lapossys opened their collective wallets to acquire a 2002-vintage Kitamura (Wheeling, IL) Mycenter 7X VMC, much larger than the Johnford. Its measurements: 60.2 by 25.6 by 27.0 in.," just what we need to take on bigger work," says Ron. "The 40-in. bed on the Johnford isn't large enough to hold some of the larger die sets we're quoting."
"While we know that machine is not the latest in CNC technology," Ken says, "it's a top-notch machine. And its Fanuc 16i control still represents state of the art."
The Lapossys expect that their Johnford machine operator also will take on responsibility for the Kitamura. The operator also serves as programmer, manning a workstation conveniently located on the production floor between the two VMCs.
"In the old days of CNC, a lot of shops had their programmer located in the 'ivory tower,'" says Ron. "They were part of the design team, sending programs down to the shop floor and leaving it to the operators to ensure that the programs ran successfully. We don't believe that's the best procedure. Right from the beginning, starting with our use of CNC wire-EDM some 20 years ago, we realized that if the machine operator does his own programming, he learns and better understands what works and what doesn't. The result is fewer mistakes and improved performance."
Moving programs from the operator's workstation to the CNC machines, the Lapossys prefer to not use an RS232 connection from computer to VMC control. Instead, the programmer moves programs to a thumb drive, which then is plugged into the VMC controllers' PC slots, using an adapter. "We also use this procedure to program our EDM machines," says Ron.
The Apprentice
Due to some fruitful family real-estate investing, the Lapossys were fortunate to avoid layoffs during the 2007-2009 downturn. Staffing stayed consistently in the 15 to 20 range; the firm employs 17 today, including one tumbling-machine operator, and four who work in the pressroom. Its latest hire: an apprentice brought into the fold early in 2012 and well on his way to earning the required 8000 hours in the shop.
"This is the first apprentice we've had in the last 15 years," says Ken. "He's moving all over the shop, learning how to run nearly every machine we have. One of our experienced wire-EDM operators has taken him under his wing."
"Both of our grandfathers were diemakers," adds Ron, "fabricating and hand-working dies using saws and files. "And I both completed my apprenticeship, graduating to die manufacture using profile grinding, manual machining and shapers. Now we're proud to be able to say we've endured and are able to allow our employees, including our new apprentice, to grow into the next generation of die-making technology." MF

See also: Pronic, Inc.
Related Enterprise Zones: Tool & Die
Visit Our Sponsors