Previews
Stationary Multipurpose Grinder
Tuesday, September 13, 2011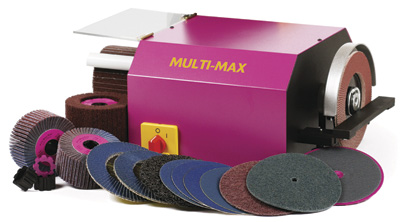 CS Unitec, Norwalk, CT, introduces the Multi-Max multipurpose benchtop grinder, ideal for all workshop grinding, blending and finishing jobs. Two opposing shaft mountings-one for flap discs and one for longitudinal abrasive wheels-provide multiple methods for grinding, sanding and finishing mild and stainless steel, aluminum and other metal alloys. The flap-disc side features an adjustable support rail with a safety hood for discs up to 7-in. dia. with a 5⁄8-in.-11 thread or 7⁄8-in. arbor. The grinder features a powerful three-phase, 750-W, 220- or 440-v motor. An optional flexible shaft allows for grinding and finishing of awkward workpieces that cannot be brought to the machine.
See also: CS Unitec, Inc.
Related Enterprise Zones: Fabrication
---
Reader Comments
There are no comments posted at this time.
Visit Our Sponsors