New Products
Cool Your Shop with this Tough Fan
Wednesday, June 1, 2011
Big Ass Fans Lexington, KY, introduces Yellow Jacket, a portable, durable fan designed for flexibility and quiet operation. Features include: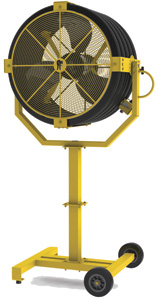 • Heavy-gauge steel carriage engineered to withstand harsh environments;
• Powerfoil-inspired blades for maximum efficiency and airflow coverage;
• Acoustically designed fan, motor and carriage for quiet operation;
• Oversized wheels and ergonomic handle for maneuverability;
• Multiple speeds and an easily operated locking-position mechanism;
• High-efficiency design to reduce energy use by more than 50 percent;
• Flexible positioning—mount on ceiling or wall; multiple floor-mounting options available.
Big Ass Fans: 877/244-3267; www.BigAssFans.com/yellowjacket
See also: Big Ass Fans
Related Enterprise Zones: Other Processes
---
Reader Comments
Posted by: Rerucha on 2/19/2016 12:56:40 PM - URL: http://www.imperial-tobacco.com/files/environment/cr2005/managed_content/popups/disclaimer.asp?link=doesmean.com/what-does-ftw-mean
The pap smear is a test that was developed in the early 1900s by a Grecian physician named Dr. In order to do this there are a number of i - Phone symbols that can tell you a lot about your phone, from signal strength and battery life, to symbols that are far less common. What music means to me quotes What is even more attractive is that you don't need much education or language proficiency to get employed. Bei - Yin: Dropping one concept in exchange for another one is not a 'transformational change'.
---
Posted by: Terry on 1/23/2013 9:17:28 PM
Hey cool weblog, just questioning what anti-spam software you utilize for feedback as a result of i get lots on my blog. Any, in my language, there are not a lot good source like this. gio xach
---
Posted by: David on 1/11/2013 3:32:34 AM
I love to explore I recently came across your blog and have been reading along. I thought I would leave my first comment. I don't know what to say except that I have enjoyed reading. Nice blog. I will keep visiting this blog very often. that lung nam
---
Posted by: AlexLe on 1/11/2013 3:31:45 AM
I want to confirm that, your post is so interesting. It contains a lot of important and useful information. I got a lot of great things. Thank you so much! http://lucyyou.com/kinh-mat
---
Posted by: TonyViet on 1/11/2013 3:30:18 AM - URL: http://verchini.com/that-lung-nam
Hello there, You have done an incredible job. I will definitely digg it and personally suggest to my friends. I am sure they'll be benefited from this web site.
---
Visit Our Sponsors