Materials & Coatings
40-Ft. Tall University of Texas El Paso Monument Made Possible by Direct Metals
Friday, March 1, 2019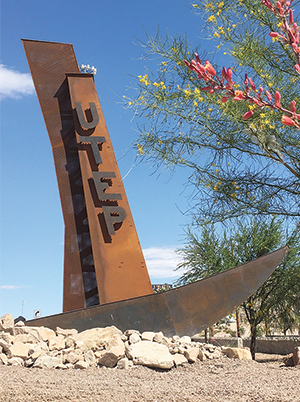 Direct Metals, a steel service center with locations in Kennesaw, GA, and Waukegan, IL, recently provided the specialty metal products for the University of Texas El Paso's massive Buried Pick monument. The monument called for 17 pieces of custom-carbon-steel-perforated metal plates, complete with ½-in.-dia. holes on 11⁄16-in. staggered centers. The pickax sculpture is set on a steel and concrete base.
With dimensions of 40 by 25 by 12 ft., and with 31⁄2-ft.-tall letters on both sides of the ax handle, the monument makes an impression given its location adjacent to a main parking lot. When night comes, the monument's perforated letters, illuminated in blue, add to the appeal.

See also: Direct Metals Co LLC
Related Enterprise Zones: Materials/Coatings
---
Reader Comments
There are no comments posted at this time.
Visit Our Sponsors