Articles
Line Automation Made Easier
Thursday, December 1, 2016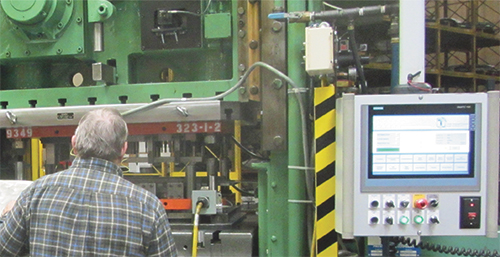 Installing an automated press line, or adding components to an existing line, is a complicated process. When it works just right, performance can be top-notch, yielding a high return on investment. But when it doesn't…
Often, the success or failure of the entire process, can be tied to component capability. Getting components to act seamlessly together enables the stamper to productively churn out quality parts by monitoring and regulating all aspects of line function. To gain a better understanding of how proper design and implementation can affect line performance, MetalForming picked the brain of John Eby, product manager and applications engineer for Toledo Integrated Systems, Holland, OH, a designer and manufacturer of press-automation controls.
Simplify the Communication Protocol
Opting for a single communication protocol, according to Eby, goes a long way toward ensuring optimal press-line performance.
"Select control hardware that uses a single communication protocol (Ethernet, etc.)," he advises. "In doing this, metalformers will benefit by simplifying line communications and simplifying maintenance."
Too often, according to Eby, control communication does not receive the proper scrutiny when specifying a line and line components.
"Many times, metalformers look to add a press, feeder or transfer system, and aren't aware of the details surrounding the controls," he says. "They'll see that Allen-Bradley or Siemens processors have been specified, and assume that the components can talk seamlessly, but that is not the case. Even if processors come from the same company, different models communicate a bit differently."
In an ideal world, reasons Eby, all control processors would be identical so that only one specific processor could be stocked to service all of the line hardware and equipment.
"But," he says, "if X plc is selected for this, and Y for that, stocking and servicing can become a nightmare. It affects maintenance and even staffing levels. It seems that everyone I talk to is looking for a good controls engineer or technician, and one reason is the need to support so many types of control components. The less to support, the better…try to reduce the amount of different software packages and communication protocols that plant control engineers must be familiar with."
Besides the basic communication and stocking issues, a single communication protocol with identical control components offers other benefits.
"Talking in a single network and accessing and diagnosing all of the equipment in the line without having to plug into different controls using different protocols will greatly ease troubleshooting," Eby says.
"In addition," he continues, "with a line set up on a single Ethernet network, for example, all line components and their controls can be accessed for remote troubleshooting."
A single protocol with compatible control processors eases the integration process, Eby adds, as many signals can be shared and will, therefore, not require individual hard-wiring, a complicated, costly and time-consuming process.
On top of that, Eby says, with a single communication protocol, less is more.
"For example," he says, "If I can use a single human-machine interface (HMI) to communicate to a couple pieces of equipment and have an organized, well-thought-out screen layout, I can call up needed information and troubleshoot more easily and more quickly. Common components and a single control system enable that, rather than running all over the line trying to figure out what screen to look at."
Mind Control Platforms, Integration During Quoting
As Eby points out, a single communication protocol with line components employing identical control processors is an ideal route for line integration. Beyond that, what should metalformers consider when contemplating additions to an existing press line?
"When buying new equipment for a press line, do your best to buy equipment with matching control platforms (PLCs, HMIs, drives, etc.)," he explains. "Ask for specific manufacturers and model numbers of equipment in order to check the specifications to make sure that you're receiving matching hardware platforms. And, hire a third party for technical assistance if you don't have the needed technical expertise inhouse. Diligence on the front end in ensuring commonality across the line will help when it comes to keeping common spare parts, ensuring smooth line communications, and easing maintenance upon run-off and after the manufacturer/integrator has left your plant."
Eby also recommends considering the age and condition of existing controls that must be tied together with new equipment.
"Just because a piece of equipment works does not mean that it will integrate cleanly," he says. "Many times, stampers purchase nice equipment and link it to a line with controls that have been obsolete for years, with hardly any wire numbers left and electrical blueprints that don't match the setup because all of that information was in the head of the engineering old-timer who retired."
Eby recalls one metalformer that upgraded a few presses while adding feed lines. The old presses employed relatively ancient eddy-current drives that lacked documentation, and personnel were not well-versed in servicing them. By replacing these units with new AC drives, the old, undocumented relay logics and wiring were eliminated, allowing for better feed-line and press operation, and improved serviceability.
As for integration itself, Eby recommends going over quotes with a fine-toothed comb to assess integration responsibility.
"We sometimes find that sales of presses, feeds or transfers do not include full integration of the new equipment into the existing line," he says. "Metalformers may or may not have the staff on hand for proper integration and documentation, so in an effort to get the line running, integration is performed hurriedly without proper planning and documentation. Do the homework beforehand, which can save headaches later when maintenance, repairs or upgrades are necessary." MF
See also: Toledo Integrated Systems
Related Enterprise Zones: Automation
---
Reader Comments
Posted by: Typicalcat on 12/29/2018 3:11:08 AM - URL: https://www.journojames.org/
Hello. And Bye. https://www.journojames.org/
---
Posted by: Gita on 12/21/2017 8:07:19 PM - URL: http://wildhunter.club/
May I simply just say what a comfort to find someone that genuinely knows what they're talking about on the net. You certainly understand how to bring an issue to light and make it important. More and more people really need to read this and understand this side of the story. It's surprising you aren't more popular given that you most certainly have the gift.
---
Visit Our Sponsors