Page 29 - MetalForming-January-2019-issue
P. 29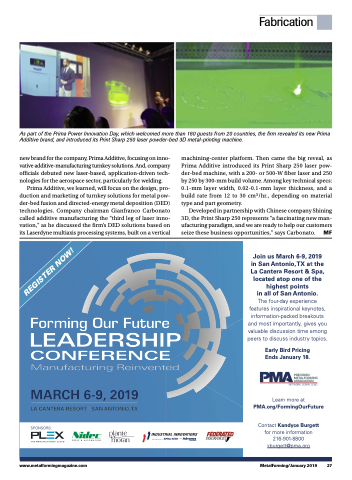 As part of the Prima Power Innovation Day, which welcomed more than 160 guests from 20 countries, the firm revealed its new Prima Additive brand, and introduced its Print Sharp 250 laser powder-bed 3D metal-printing machine.
new brand for the company, Prima Additive, focusing on inno- vative additive-manufacturing turnkey solutions. And, company officials debuted new laser-based, application-driven tech- nologies for the aerospace sector, particularly for welding.
Prima Additive, we learned, will focus on the design, pro- duction and marketing of turnkey solutions for metal pow- der-bed fusion and directed-energy metal deposition (DED) technologies. Company chairman Gianfranco Carbonato called additive manufacturing the "third leg of laser inno- vation," as he discussed the firm's DED solutions based on its Laserdyne multiaxis processing systems, built on a vertical
machining-center platform. Then came the big reveal, as Prima Additive introduced its Print Sharp 250 laser pow- der-bed machine, with a 200- or 500-W fiber laser and 250 by 250 by 300-mm build volume. Among key technical specs: 0.1-mm layer width, 0.02-0.1-mm layer thickness, and a build rate from 12 to 30 cm3/hr., depending on material type and part geometry.
Developed in partnership with Chinese company Shining 3D, the Print Sharp 250 represents "a fascinating new man- ufacturing paradigm, and we are ready to help our customers seize these business opportunities," says Carbonato. MF
Join us March 6-9, 2019 in San Antonio, TX at the La Cantera Resort & Spa, located atop one of the highest points
in all of San Antonio. The four-day experience features inspirational keynotes, information-packed breakouts and most importantly, gives you valuable discussion time among peers to discuss industry topics.
Early Bird Pricing Ends January 18.
Learn more at
PMA.org/FormingOurFuture
Contact Kandyce Burgett for more information 216-901-8800 kburgett@pma.org
Fabrication
                                                                                                                                                                                SPONSORS:
                                                                         www.metalformingmagazine.com
MetalForming/January 2019 27
REGISTER NOW!