Page 25 - MetalForming-January-2019-issue
P. 25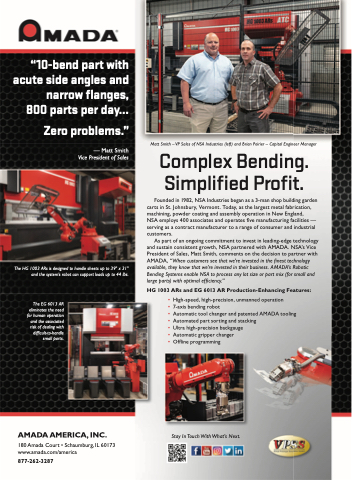 "10-bend part with acute side angles and narrow flanges, 800 parts per day...
Zero problems."
— Matt Smith
Vice President of Sales
Matt Smith – VP Sales of NSA Industries (left) and Brian Poirier – Capital Engineer Manager
Complex Bending. Simplified Profit.
Founded in 1982, NSA Industries began as a 3-man shop building garden carts in St. Johnsbury, Vermont. Today, as the largest metal fabrication, machining, powder coating and assembly operation in New England,
                      customers.
           and sustain consistent growth, NSA partnered with AMADA. NSA's Vice President of Sales, Matt Smith, comments on the decision to partner with AMADA,                                         
HG 1003 ARs and EG 6013 AR Production-Enhancing Features:
• High-speed, high-precision, unmanned operation
• 7-axis bending robot
• Automatic tool changer and patented AMADA tooling • Automated part sorting and stacking
• Ultra high-precision backgauge
• Automatic gripper changer
•  
  The HG 1003 ARs is designed to handle sheets up to 39" x 31" and the system's robot can support loads up to 44 lbs.
The EG 6013 AR eliminates the need for human operation and the associated risk of dealing with difficult-to-handle small parts.
   AMADA AMERICA, INC.
180 Amada Court • Schaumburg, IL 60173 www.amada.com/america
877-262-3287
Stay In Touch With What's Next.