Page 2 - MetalForming-January-2019-issue
P. 2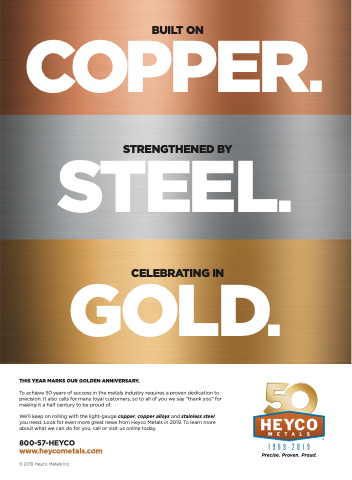 BUILT ON
COPPER.
STRENGTHENED BY
STEEL.
CELEBRATING IN
GOLD.
THIS YEAR MARKS OUR GOLDEN ANNIVERSARY.
To achieve 50 years of success in the metals industry requires a proven dedication to precision. It also calls for many loyal customers, so to all of you we say "thank you" for making it a half century to be proud of.
We'll keep on rolling with the light-gauge copper, copper alloys and stainless steel you need. Look for even more great news from Heyco Metals in 2019. To learn more about what we can do for you, call or visit us online today.
800-57-HEYCO
www.heycometals.com
                                  © 2019 Heyco Metals Inc.