Larger Forming Area, Greater Draw Depth Added to Line of Deep-Draw Sheet Hydroforming Presses
March 1, 2015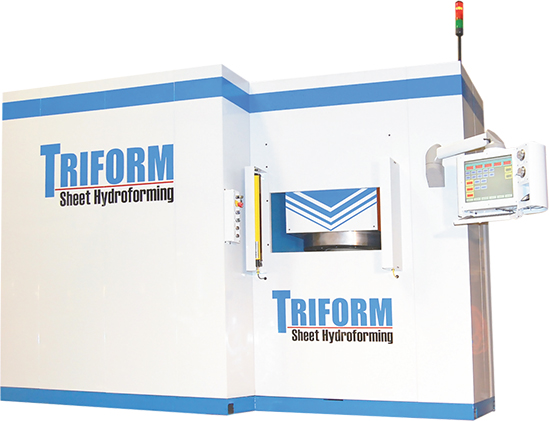 Beckwood Press Company, St. Louis, MO, has expanded its Triform product line with the addition of a 15,000-psi deep-draw sheet hydroforming press, featuring a 12-in.-dia. maximum blank size and a 7-in. draw-depth capacity.
The new Triform Model 12-15-7BD is ideal for operations involved with the frequent forming and drawing of high-strength materials for parts fitting within the maximum blank-size dimensions. Examples are medical device manufacturers, who commonly cold-form titanium, stainless steel, inconel, hastelloy and other high-strength alloys.
The press includes the same technologies as other machines in the Triform line. Precision diaphragm-pressure and punch-position control combined with built-in recipe-handling capability offer high forming proficiency. Additionally, the In-Sight feature allows the press to be paused and opened at any point in the forming cycle to allow for a visual inspection of the forming process. The press structure itself maintains its compact, flush-floor design, requiring no pits or special foundations for installation.
Like the other Triform presses, this model benefits users in the way it creates pressure.
"These presses do not rely on oil displacement in the bladder by the punch or form tool to achieve the programmed pressure," says Jeffrey Debus, Beckwood Press president. "In other words, any-sized part, from the smallest to the largest the model can accept, can be formed in any-sized deep-draw Triform."
www.beckwoodpress.com
See also: Beckwood Press Company
Technologies: Stamping Presses