Safer Cleaning System and Fluid for Stamped Parts
March 1, 2019
LCS Co., headquartered in a 60,000-sq.-ft. St. Paul, MN, plant, stamps ultra-thin precision electrical parts, laminations, drawn parts, shims, washers and gears for the industrial, automotive, aerospace, military and food-processing industries. Part materials include steel, aluminum, copper, brass, bronze, foil, gold and nickel.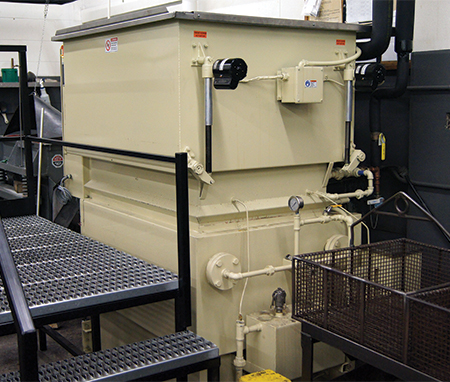 Minnesota precision stamper LCS Co. employs a new vapor-degreasing machine and environmentally friendly fluid to more safely and economically clean parts.
Its president and CEO, Paul Stotts, looked to update conditions and efficiency in the company's vapor degreasing department. He discussed options with Steve Schmidt, vice president, with a focus on improving employee surroundings and the company's impact to the environment. No matter the decision, the company had to continue delivering cleaned, finished parts, free of manufacturing oils, to its customers. Schmidt contacted Dave Blackstone, owner of DGB Sales, Inc. in nearby Minneapolis. After researching, LCS Co. transitioned to a new vapor degreasing machine from DGB Sales, using MicroCare Tergo MCF (Metal Cleaning Fluid). A distributor of MicroCare cleaning fluids and supplier of vapor and aqueous degreasing equipment, DGB Sales specializes in the design and fabrication of D-line degreasers for parts cleaning.
The new machine and fluid enabled LCS Co. to improve worker safety by finding an alternate cleaning solution to trichloroethylene (TCE) industrial solvent; comply with environmental, health and safety standards; vastly reduce odors associated with the previous degreaser; and maintain compatibility between materials and cleaning fluid without damaging parts. In addition, employing the new system and new fluid reportedly has delivered a 50-percent annual reduction in usage of cleaning fluid, with 75 percent more parts cleaned.
For 30 years prior to the switch, LCS Co. used TCE and a vapor spray degreaser to clean parts prior to shipping. TCE, an established and inexpensive solvent, cleaned very well. However, in recent years TCE has been proven to be a carcinogen and is on the U.S. Environmental Protection Agency (EPA) watch list as a health hazard to humans and the environment. The LCS management team, concerned for employee safety and well-being, sought an upgrade to a better cleaning process and cleaning fluid.
Blackstone from DGB Sales recommended upgrading the company's cleaning equipment from an open-top vapor spray machine to a new submersible vapor degreaser that allows parts to be dunked, soaked, cleaned and dried in one operation. LCS Co. chose a 9-sq.-ft., 125-gal. model with cooling, working-mode cover and super-heat systems.
Also, Blackstone initially recommended a fluorinated, nonflammable fluid for use with the new degreaser. Though safer to use and more environmentally friendly, that formulation was costly. LCS Co. looked for a more economical alternative that worked just as well, if not better.
Blackstone then recommended MicroCare Tergo MCF, a formulation new to the market. Testing confirmed efficacy and LCS Co. chose the new cleaner.
Specializing in electric-motor laminations and with about 80 percent of its parts featuring special electrical coatings, company personnel noticed that sprayed TCE would soften the coating, causing the tightly racked and stacked parts to stick together. This problem required additional labor to pry the parts apart and then to re-inspect and re-clean them if necessary. Tergo MCF, with its low surface tension and low viscosity, cleaned all part surfaces without damaging the substrate or coating.
"Since installing the new vapor degreaser and the Tergo MCF fluid, it's like the stars aligned," says Schmidt. "We're degreasing more than we ever have before."
With the new cleaning fluid, LCS Co. no longer must submit National Emission Standards for Hazardous Air Pollutants reports twice per year. Also, the fluid is accepted by the Significant New Alternatives Program, created by the EPA to ensure that new chemicals do not harm the stratospheric ozone layer. Plus, the company reports a smooth recent OSHA inspection of its vapor degreaser operations.
"We are very happy and proud to be ahead in the regulatory ball game when it comes to safety and compliance," Schmidt says.
See also: Microcare Corporation
Technologies: Safety