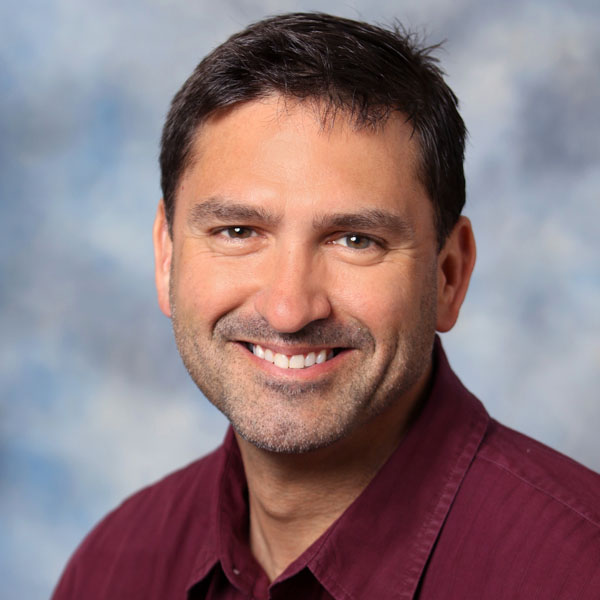 Lou Kren
Robot Retrofits: When is it Time?
February 27, 2023
Amidst a winter storm on the night of December 25, 1776, General George Washington led a column of Continental Army troops across the Delaware River to Trenton in the province of New Jersey, in preparation for a surprise attack. The following morning, Washington and his men took the fight to Hessian soldiers sided with the British. By nightfall on December 26, the attack's success delivered sorely needed momentum, ultimately leading to victory in the American Revolution.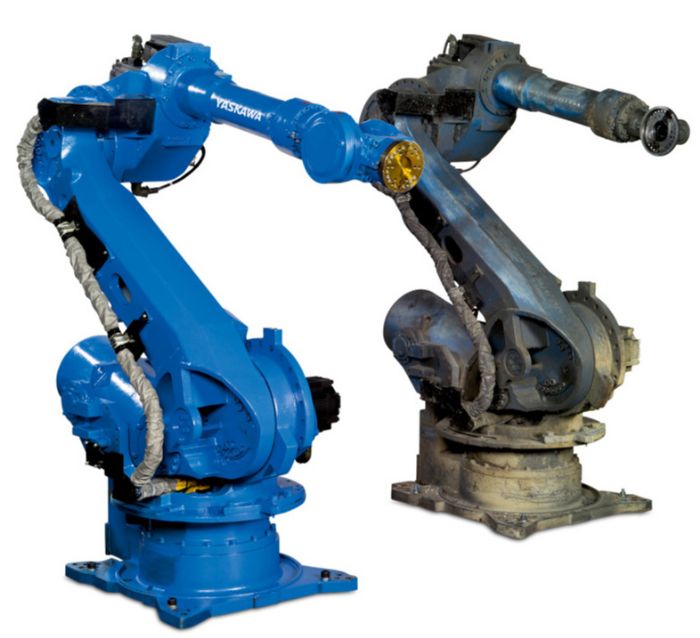 Another revolutionary event would occur in Trenton nearly two centuries later. In 1959, crews installed the 2700-lb. Unimate #001, a prototype industrial robot, on an assembly line at a General Motors diecasting plant. Within only a few years, hundreds of Unimate 1900s dotted shop floors, and the industrial world would never look the same.
Today, more than a half century after Trenton's second revolutionary event, robotic automation spurs dizzying productivity rises in manufacturing operations worldwide, offering rapid, repeatable and tireless action, often in tasks deemed too dangerous or monotonous for humans. Though tireless, robots won't run forever.
For the most part, with proper maintenance, an industrial robot will remain in service for 10 to 15 yr. Much depends on the harshness of the environment and application, as well as the terms surrounding supplier hardware, control and software support. In many cases, retrofitting can extend—and even double—the life of these shopfloor workhorses.
When can a retrofit pay off? Answering that question is Steve Klopfenstein, senior manager of retrofit systems at Yaskawa America, Inc., Motoman Robotics Division, who recently authored a blog post on the topic, www.motoman.com/en-us/about/ blog/knowing-when-to-retrofit-your-robot. Klopfenstein and his team, located regionally throughout the United States, retrofit peripherals as well as robots, providing upgrades to extend automation life significantly. Through the team's experiences and expertise, Klopfenstein offers valuable retrofit advice for MetalForming's readers.
Upgrade Quality and Efficiency
Suppose a robotic welding operation, for instance, fails to meet standards for part quality. Perhaps this calls for an upgrade to a new power source or welding torch, as these items can age out and become frail, which impacts quality. Reach out to the robot or automation-system OEM or integrator, where a new solution often can be identified over the phone. End users in many cases can install much of this new equipment on their own.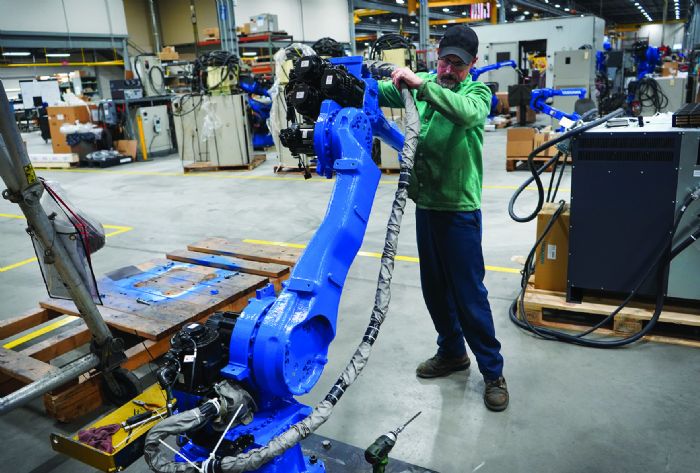 "We've seen, within the past 5 to 10 yr., huge improvements in welding equipment and software, and fabricators want the highest-quality and most efficient welds for their customers," Klopfenstein tells MetalForming. "In most cases, this improved technology can be interfaced to older robots without issue, save for perhaps some communication modifications to derive the most from that new equipment and software."
Many technologies for handling, painting and other tasks similarly can be retrofitted into a current setup to decrease cycle time and optimize process efficiency, he notes. Using new, higher-quality peripherals also can help extend robot functionality and asset longevity.