Extended-Reach, Six-Axis Arc Welding Robot
August 23, 2019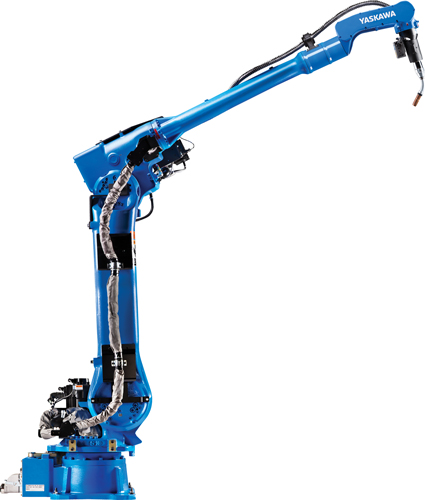 The new AR3120 six-axis robot from Yaskawa Motoman features a 3124-mm horizontal reach and 5622-mm vertical reach, making it the longest-reach standard arc welding robot available, according to company officials.
Designed to optimize weld quality and product output, the robot, offering a high payload, rapid axis speeds and reportedly the top wrist-allowable moment in its class, is ideal for use on agriculture equipment, construction machinery or automotive frames.
Suited for use in high-density layouts with multiple robots working in close proximity, the AR3120 robot features a slim profile with streamlined arm design for reduced interference, thus facilitating access to parts in tight spaces. A 20-kg payload capacity supports a range of motorized torches and sensors, and a symmetric, long-range wrist profile provides equal torch access to both sides of the part. An optimized feeder-mounting area on the arm reduces equipment interference.
Through-arm routing for cabling, hoses and sensor wires is provided by the large 50-mm through-hole, allowing ample space to minimize cable snagging and wear. Similarly, the minimal protrusion from the U axis, along with the internal S-axis routing, prolong cable life and maximize part access. A new robot-harness design reportedly improves diagnostics and maintenance, and a single cable connects the manipulator to the controller, resulting in simple, cost-effective setup.
The AR3120 robot can be floor-, wall-, tilt- or ceiling-mounted, and is controlled by a YRC1000 controller that does not require a transformer for input voltages ranging from 380 to 480 V AC. The controller utilizes a lightweight teach pendant with intuitive programming.
See also: Yaskawa America, Inc.
Technologies: Pressroom Automation, Welding and Joining