Expanded Machine Monitoring and Management via Real-Time Data Collection, Reporting
March 28, 2019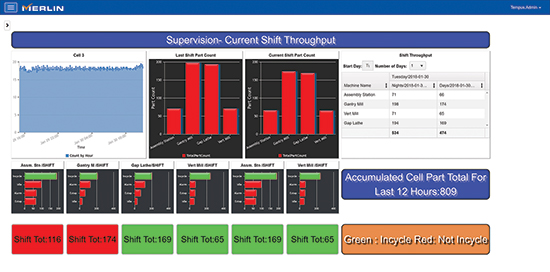 Memex has released the new version of Merlin Tempus Enterprise Edition (EE), building on the company's core Merlin software platform and allowing manufacturers to run operations efficiently via expanded machine monitoring and management functionality. The new edition's real-time data-collection capabilities capture machine-generated information and real-time sensor data, including alarm states, feed- and speed-rate overrides, and various other green-light metrics, and contextualizes them in simple-to-read visual dashboards and key-performance-indicator reports.
Tempus EE provides for simple navigation and offers many enhanced features useful for shop-floor production operations, including role-based dashboards for production personnel, engineers, operators and managers. Other features include Op-Step management functionality, priority and alternate machine routings, asset management, traceability, event manager pan and zoom, analytics, and advanced data-source conditioning. The Operator Portal has been improved with new features such as freeform text, serialization, rework and scanner support.
Also, the software has a new, optional DNC software module that facilitates program-file transfer to machines with support for native machine protocols and FTP networking. And, Merlin's enterprise design allows for multi-plant operations across time zones via new, durable gateway architecture.

See also: Memex Automation
Technologies: Management