AI-Based Virtual Agent Expands ERP Usability, Capabilities
April 16, 2019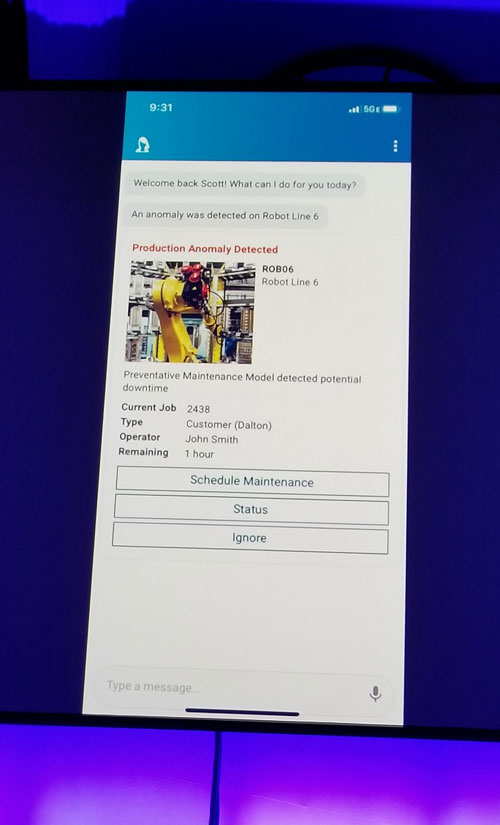 At Epicor Insights 2019, Epicor Software Corporation unveiled the Epicor Virtual Agent (Eva), its new enterprise-wide digital agent developed to execute tasks and recommend, predict and adjust actions within set parameters, Eva appears on-screen as a virtual assistant that users can access via text or voice. Along with cognitive skills such as text and voice, Eva transforms data into visual information. Users can access Eva, powered by natural language processing, from their mobile devices and the agent will deliver targeted information to help them make better, faster decisions, according to Epicor officials.
Beyond request/response conversations, Eva uses artificial intelligence (AI) to proactively deliver alerts and carry out targeted actions based on combinations of events, market statistics and historical data. Designed to extend and support the workforce, Eva, as Epicor officials describe, can contribute timely insights that improve accuracy and problem-spotting, and can forecast and automatically adjust production or distribution levels in-line with customer demand.
"New forms of interacting with business software solutions are a key to accelerating the pace of operations and improving the exchange of data and information," says Scott Hays, senior vice president of product marketing at Epicor. "Having an intelligent agent at hand will help companies become more agile and responsive to unexpected events and rapidly changing customer demands."
Eva enables users to interact naturally with their EPR systems, Hays explains.
"This makes the breadth and depth of the industry-specific functionality and information available inside and ERP system directly accessible to a larger audience, boosting productivity and efficiency, and giving the company an improved return on their ERP investment," he says.
Developed using AI services from Microsoft Azure, Eva can be added to all sizes and types of Epicor ERP implementations—on-premise as well as in the cloud.
"Due to its machine-learning component, the more you use Eva, the better it will work for you," says Hays. "We are confident that using an artificial intelligence-based agent that has deep industry-specific applications will make their enterprise systems more predictive, adaptive and proactive. Eva will enable customers of all sizes, regardless of their operating model, to increase productivity, work smarter and grow their business in whatever direction they want in today's Industry 4.0 ecosystem."
At Insights 2019, Epicor highlighted Eva's capabilities in various environments. In manufacturing, a demonstration revealed how Eva detects an anomaly early on in a production machine that, if left untouched, could lead to unplanned downtime and low part quality. Data from machines and IoT sensors, combined with Epicor's ERP system, provide a virtual nervous system that delivers AI-driven alerts from Eva to a mobile device. With a few clicks on the device, the production manager can confirm suggestions from Eva to schedule preventive maintenance for a machine and shift production to other available machines.
Eva will be available as part of the latest releases on Epicor ERP and Prophet 21 systems, planned for this May.

See also: Epicor Software Corp.
Technologies: Management