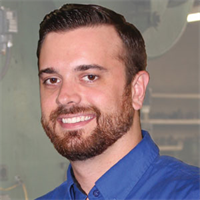 Andrew Bader
Millennials in Manufacturing
April 1, 2016
Andrew Bader works in marketing and sales for OGS Industries, Akron, OH; www.ogsindustries.com.
While manufacturing has evolved dramatically over the last several decades, many young people still do not consider manufacturing a practical career choice. I'm a millennial and, along with my brother, we are the third generation to work for my family's metalforming company. A newly formed partnership with a customer, cofounded by millennials, demonstrates how my generation can contribute to U.S. manufacturing.
From the modern world where everyone seemingly strives to develop apps, earn "likes" on social media and become the next Mark Zuckerburg, I'd like to introduce you to a young architect out of Chicago named Kyle Hoff. A recent graduate, Hoff quickly ran into a frustrating problem while adjusting to city life. He realized that moving desks and tables from apartment to apartment was not something easily accomplished. So, he designed a solution based on removable furniture legs featuring a unique clamping mechanism. After a successful Kickstarter campaign, he, along with business partner Alex O'Dell, developed, manufactured and shipped their first clamp-on table legs—The Floyd Leg.
A year after the initial release, the newly named company, Floyd, outgrew some of its suppliers and needed additional support to enable continued growth. That's when our company received an e-mail from Hoff, in search of a metalforming supplier. Hoff and I reviewed Floyd's designs and were able to make improvements to create a better-looking product, while also reducing costs. Over the next several months we shot videos, conducted conference calls and even texted one another. (Prior to this campaign, I had not once sent a text message to a customer.)
Floyd, Detroit, MI (www.floyddetroit.com), is comprised entirely of full-time millennials working in product design, supply-chain management, marketing and customer service, among other disciplines. I'm proud that my fellow millennials have gone beyond the typical modern-day route to success based on developing the next big app, and instead have committed to dreaming up tangible, innovative solutions to problems.
I have enjoyed working with the Floyd team because our partnership is a unique one. We (millennials) have a practical approach to doing business, with a strong focus on contributing to each other's success. There is something special about helping to turn an idea into products you can touch and hold in your hand.
My message to other millennials reading this magazine: You, too, can get involved in transforming sketches, drawings and ideas into tangible products, ideas that might improve the next airplane, electric car or piece of furniture.
Manufacturing provides unique opportunities to limitlessly leverage creativity. I encourage more young people to get involved, and to realize that there is much more to manufacturing than meets the eye. With today's technology it can be very exciting to learn about subjects such as 3D modeling, robotics, lasers, CNC programming and additive manufacturing.
In this world, where there seems to be an emphasis on digital answers, know that the opportunities to create tangible solutions to real-world problems are almost endless, and will be here forever.
Technologies: Additive Manufacturing, Management, Training