Fiber Discs Offer Faster Cut Rate in Carbon Steel and Soft-To-Grind Materials
October 2, 2019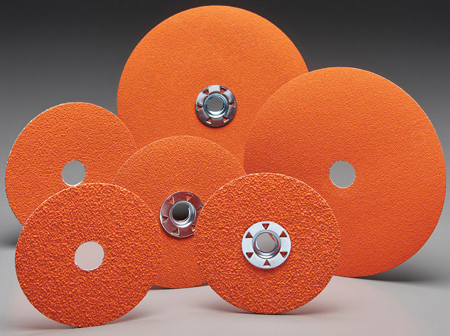 Saint-Gobain Abrasives
Booth B33062
Saint-Gobain Abrasives highlights its Norton BlazeX F970 fiber discs, designed for fast rust removal and enhanced cleaning and detailing processes. Users performing right-angle grinding on a routine basis will appreciate the discs' improved micro-fracturing grain. By consistently exposing sharp grain edges, a better cut rate results, as well as longer disc life when compared to blended ceramic alumina discs.
"Intended for carbon steel and other soft-to-grind materials, the new fiber discs were developed to provide cool cuts and to offer longer life due to a non-supersized design," says Patrick Carroll, Norton | Saint-Gobain Abrasives senior product manager.
The fiber discs come in three diameters: 3.5, 5 and 7 in.

See also: Saint Gobain Abrasives
Technologies: Finishing