Abrasive Belts Cut from Bulk Rolls
October 2, 2019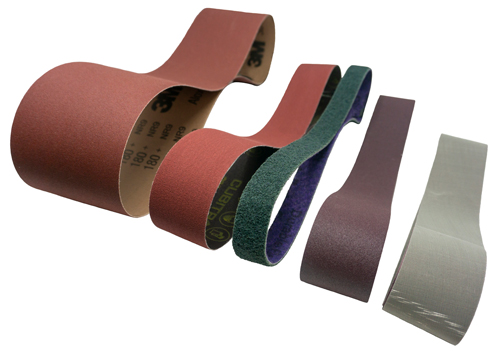 TapeCase Ltd.
Booth A6370
TapeCase Ltd. showcases its converted 3M abrasive belts, as the company reportedly is the first and only converter of 3M Abrasive Belts in North America. Through TapeCase's Belts-To-Go abrasive program, abrasive material provided by 3M in large rolls is cut down to create abrasive belts.
Customers can receive same-day quotes for abrasive belts, with next-day shipping on stock sizes and less-than-three-day shipping on custom sizes. This service enables much lower minimum-order quantities than if buying directly from 3M, according to TapeCase officials.

Available belts: 3M Cubitron II 784F, a cloth belt for most medium- to high-pressure metalworking applications; 3M 384F, a cloth general-purpose belt, ideal for all metals in low- to medium-pressure applications; 3M 302D, a flexible cloth belt for blending and finishing contours; 3M Trizact 217EA, a cloth belt for intermediate finishing and polishing prior to plating or buffing; and the Scotch-Brite durable, non-woven flex belt, for deburring, blending and finishing.

See also: Tapecase Ltd.
Technologies: Finishing