BLM Group Debuts Tube-Laser Cutting Machine
August 1, 2018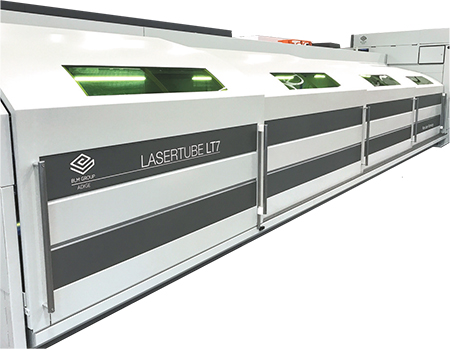 BLM Group USA has launched LT7 Lasertube, a tube-laser-cutting machine. The machine features a 3-kW fiber laser that that allows for cutting of round, square and rectangular sections. Special sections and open profiles also can be processed. Loading chains can be extracted from the rear standard bundle loader within seconds, providing the flexibility to load a single bar or open section quickly and simply. The loading and unloading systems also adapt to accommodate short and long parts via innovative tube supports.
Exclusive patented technical solutions include:
Active Scan—eliminates errors induced by distorted tubes

Active Tilt—uses focus head movement to provide fastest processing of small features

Active Focus—provides error-free cuts regardless of material changes and thickness

Active Marking—offers dynamic part marking for complete production traceability

Active Speed—ensures higher cutting quality on the most critical jobs

Active Piercing—increases piercing speed and reliability even on inconsistent material quality and thickness.
Two exclusive software programs enhance the versatility of the LT7 Lasertube. The Protube monitoring system helps users to make accurate time and cost estimates based on processing time for an entire production batch.
Artube, a 3D CAD/CAM software allows users to move from a design idea to a part in one click.
BLM Group: www.blmgroup.com
See also: BLM Group USA
Technologies: Cutting