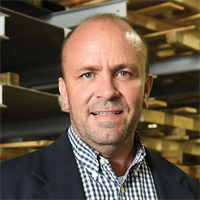 Tracy Buck
Planning Considerations for Vertical Storage and Material Handling Systems
January 12, 2022
1. How can metal formers justify the expense of a new racking or material-handling system?
Establishing goals and defining the expected financial benefits are critical for winning approval of any new capital project. As operators we tend to focus on obvious goals like freeing up more floor space for production and organizing inventory so it's easier to find. While these goals are important and offer a tangible ROI, take the time to tie those benefits, and identify others, that will align the project with the company's strategic goals. For instance, determine throughput rates required to achieve desired sales growth next year and 5 years down the road. Armed with that information, identify existing material-flow bottlenecks that will prohibit you from achieving those rates to establish a holistic plan that resonates with executives.
2. What safety factors should I consider when evaluating various rack styles and construction?
Most buyers ask about the total load capacity of a racking system, but metal formers should address several additional factors related to safety and durability. Be sure to identify differences in physical characteristics, such as the shape of the steel (roll formed vs. channel vs. wide-flange I-beam, for example), grade of bolts, and size and location of welds. In addition, ask how the rack design accommodates uneven loads and what safety factors are engineered in. The answers to these questions will affect how you can load your new racks, the maximum storage density possible and how resistant the system will be to damage from material-handling equipment.
3. Is my current lift equipment adequate or optimal?
Once you've selected a racking design, it's time to evaluate whether your material-handling equipment can efficiently and safely service the newly proposed system, or if you need new equipment. For example, an overhead crane equipped with a C-hook cannot load coils into traditional coil racks, so you'll need to consider an alternate means of handling—a fixed-mast crane, for example. With regard to fork trucks, a side loader allows for much narrower aisles compared to traditional forklifts, which will free up space for additional storage or production.