Software Enhancements Take Cutting and Punching to New Productivity Heights
January 1, 2014
UK-based Radan Software (with U.S. operations in Forest Lake, MN) has launched Radan 2014, following a successful Beta program. The latest software version incorporates a host of new and enhanced functionality including 3D workflow improvements; safety measures to prevent tipping on flat-bed lasers; advances in common cutting on punches; and support for cluster and asymmetric wheel tools. Says product manager Olaf Körner:
"Simulation and time calculation have improved considerably, by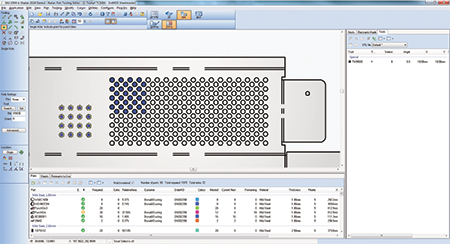 being moved a from NC verification to the area where sequences are defined, whether a defined sequence is used automatically, manually or interactively. Users now have access to far more information about the tools, the machine and the possible accelerations."
Enhancements to 3D workflow dramatically reduce the time taken to move parts to the nest, including the elimination of several manual steps required—including unfolding the model, saving as a part and adding the right quantity to the schedule. Now, the software automatically unfolds and adds all parts to the nest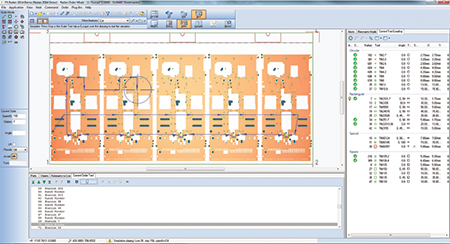 area. This reduces the number of mouse clicks for single parts from around 26 down to just three or four.
Further, support for cluster tools allows the user to simply add them to the master tool file; Radan automatically ensures the best arrangements of cluster tools to punch a specific pattern. "Automatic tooling recognizes the geometry and applies the right tool or combination of tools to the punch pattern," says Körner. Radan 14 also features similar enhancements for asymmetric wheel tools, as they are becoming more popular in offering alternative strategies to secondary operations for cutting and forming.
Radan 2014 adopts the same common cutting strategy for punch presses as that used for profiling machines. It allows for automatic creation of common cut nests, so the user can choose, for example, how many parts form a common cut island, reducing the sheet's instability. Tagging for common cut parts also has been improved.
Radan: 800/875-7232; www.radan.com
See also: Radan CIM Inc.
Technologies: CNC Punching, Cutting, Software