Imperial has the Fab Recipe for Higher Productivity
September 1, 2015
Since its inception in 1957, Imperial Commercial Cooking Equipment, Corona, CA, has remained a family-owned company with a mission to be the preferred global supplier of high-quality, top-value cooking equipment to the food-service industry.
Combining skilled employees with innovative manufacturing processes, Imperial boasts a customer base ranging from major restaurant and grocery store chains to small family restaurants. Over time, the company, now with 122 employees in a 100,000-sq.-ft. facility, has evolved into a major player in the food-service equipment industry.
"We either introduce a new product or update an existing product every year," explains Matt Wise, general manager.
Productivity Doubles After Punch/Shear Investment
Imperial also continually invests in state-of-the-art technology and machinery as part of its commitment to future growth. No more is that true than in the sheetmetal-fabrication area, where the company maintains an impressive slate of punching and shearing equipment. The roster includes Shear Genius integrated punch/shear cells from Prima Power. Imperial purchased its first two cells in 1996 and hasn't looked back.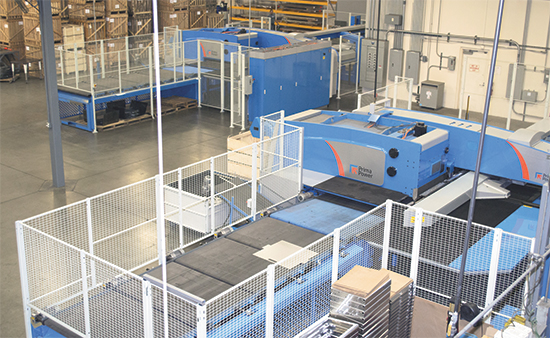 Two new integrated punch/shear cells have doubled production at Imperial Commercial Cooking Equipment, Corona, CA. The automated cells also have cut secondary processes and manual labor.
"Those hydraulic models served us well," says Wise, "until we traded them in for the newest generation of servo-electric Shear Genius (SGe) models in 2013 and 2014."
The new machines enable Imperial to transform full-sized sheets into finished parts, which move to final production stages for immediate integration into the final product assembly.
"Our older hydraulic Shear Genius cells were very good," explains Wise. "However, the new servo-electric models are faster, require less maintenance, provide longer tool and shear-blade life, and are much easier to program.
"We used to run the old machines two shifts," he continues. "Today, we run all production on the two servo-electric cells in just one shift, and the new cells have helped us double productivity. We can go from sheet to part without re-clamping. Unlike with competing machines, punching and shearing with this model utilizes the same clamp...production is continuous. Another benefit: We have gone from a 100-amp to a 50-amp circuit for the machines, which translates into power savings."