"Totally vertically integrated," Dunn repeats.
MRI's inventory of equipment is, in a word, extensive, as is its materials usage. The new addition on the main MRI facility will include an automated powdercoat line; glass-tempering, heat-strengthening and annealing capability; high-speed digital frit printing on glass; aluminum-extrusion and 3D-bending capability; two fully robotic/ automatic, four-bowl hardware insertion machines; and one robotic cell for post-weld grind/deburr, knockout removal and blank shearing.
Existing equipment includes a jumbo glass-fabrication line with an autoloader system, glass scribe and break, five-axis glass CNC machine, double-sided glass-washer/scrubber equipment, 1440-dpi digital-ink glass printer and curing ovens; and a fully automated PCB assembly for surface-mount and through-hole components with capacity to build approximately 400,000 circuit boards/yr.—each having about 1000 electrical components. This PCB assembly line also includes conformal-coating capabilities.
And then there's MRI's sheetmetal-fabrication operations:
Two (each building) 6-kW fiber lasers with material handling;

One dual-head CNC waterjet cutter with pneumatic drills;

One 250-W CO2 laser;

Four press brakes with hemming tables and dynamic crown correction;

Two automated panel benders;

Six multi-bowl manual hardware-insertion machines;

One (each building) 10-ft., 10-gauge shear (robot or manual load);

One 60-in. sheetmetal deburr sander;

Two 12-in. and one 48-in. vibratory deburring machines;

Two robotic welders, each with dual rotisseries and Lazy Susan stations;

One five-axis, CNC extrusion profiler; and

One RAS Multibend-Center 79.31-2 with dual-station automatic gantry loader and robotic unloader.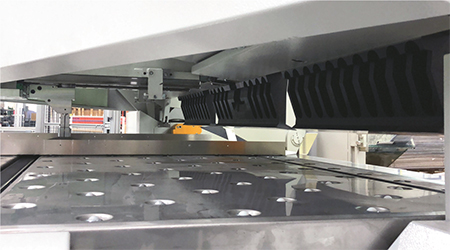 Whether outfitted with roller or brush tables, the bending system creates precise bends without sacrificing surface quality due its folding style. Rather than wiping against material, adjustments are made for the necessary material radius on multiple axes as the folding beam actuates.
As for materials used annually, the company consumes 1 million lb. of anti-reflective coated glass, 1 million lb. of 5052-H32 aluminum alloy; 300,000 lb. of 304 stainless steel and 200,000 lb. of various aluminum-extrusion profiles.
No-Mark Bending
While MRI continues to use other panel benders, where the absence of marking is important it employs the RAS metal-folding system, installed in July 2018. "In fact, we're now transferring as many parts—profiles and essentially completed chassis—as possible from our other machines to the RAS."
Why? "Because," says Dunn, "the folding technology behind this equipment eliminates the tools that slide over, stretch, mark and scratch the material during bending while increasing bend quality and accuracy."
Here's how. Using an optical scanner, the Multibend RAS 79.31-2 measures the blanks, held in place by blank-loading suction cups on the load table, which ensures accuracy of the finished partwhile accelerating cycle times because as one part bends another part is scanned. Additionally, crowning is not necessary due to a proprietary 'beam-in-a-beam' folding-beam design. In short, the rigidity of the machine yields consistently straight parts without the need for a maintenance-prone mechanical crowning system.
The system's main manipulator rotates and moves the workpiece with a 0.001-deg. rotation angle and 0.004-in. linear accuracy; the 3D folding-beam movement of the system's up-down tools enable scratch-free bending. The tab tools enable the formation of complex geometries.
Moreover, the system's 120.5-in. maximum working length provides MRI with the length and capacity required for parts production, while the tool changer can set up any tool length in seconds.
Even on 10-ft.-long parts, "we are achieving bend-angle/flange-length accuracies as tight as ±12 to 15 min. of arc and ±0.001 to 0.003 in. down the entire length of the part," says Dunn, adding that the part-to-part variation is so good that "it rarely requires much, if any, operator correction."
Speed Drives Innovation
"The RAS equipment is super-fast and super-efficient," continues Dunn. That's the good news, but it brought a challenge. Conventional means for offloading the large formed parts couldn't keep pace with the RAS equipment. While MRI bought the RAS with dual-gantry auto-load technology, capable of loading two 36-in. stacks, or 600 sheets, the company's parts are so large that the system had to stop every couple of minutes for offloading.
That didn't last long, says Dunn, as MRI soon added a six-axis robotic unloader and skeletized the parts—bending four parts on a skeleton. A fiber laser perforates those parts so that once bent, the operators, and now the robot, snap out the bended parts, with the robotic unloader providing for fast offload.
"With the skeletized parts and the RAS bender and robotic unloader, we're producing and unloading parts faster than ever," says Dunn. "Our system can run from 10 min. to a couple of hours before operators need to step in to remove the full pallets."
MRI's bending improvements have resulted in labor savings, increased capacity and accuracy. Moreover, says Dunn, "because the corner fitup is the best our welders have seen, weld time is down and quality is up, while in product assembly everything fits, eliminating the need for filing, drilling or forcing parts together." MF
Industry-Related Terms:
Aluminum Alloy
,
Hardware
,
LASER
,
Run
,
Stainless Steel
,
Surface
,
Blank
,
Center
,
CNC
,
Corner
,
Form
,
Bending
View Glossary of Metalforming Terms