Software Powers Turbocharger Redesign for AM
November 3, 2021
Florida-based KW Micro Power designs and manufactures auxiliary power units (APUs) for commercial aviation and military applications. Always on the lookout for technology to improve production and performance of its micro-generator products, KW Micro Power pays particular attention to weight-saving solutions for APUs destined for aircraft and drones.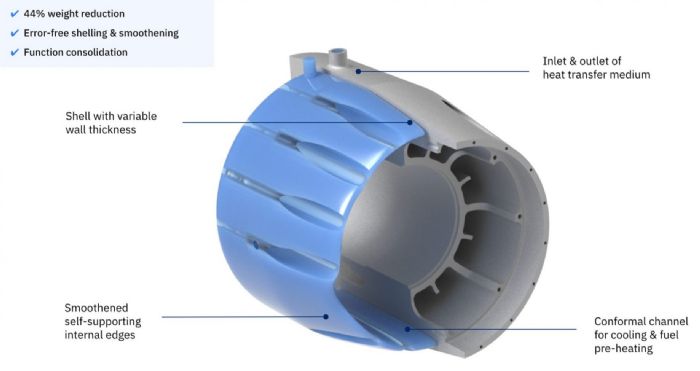 Recently, KW Micro Power employed software and expertise from nTopology to redesign for additive manufacturing (AM) the housing of its aerospace-grade, compact turbogenerator. The result: an AM solution that reduced the housing's weight by 44 percent, with a total weight savings of 4.5 kg, and delivered exceptional cooling improvements. The housing is printed as a single piece on a Velo3D Sapphire AM system, replacing the original process of CNC machining, with aluminum F357 as the part material.
AM Design/Build Capabilities Floor Veteran Engineer

Over the past five years, Enrique Enriquez, president of KW Micro Power, has worked to create a microturbine generator roughly the size of a microwave oven that can crank out more power than systems 10 times as large. No stranger to aerospace design and manufacturing, in his career he has led engineering teams at Rolls-Royce, worked with DARPA on microturbine propulsion systems for the first vertical-takeoff-and-landing drone, and bought the second 3D printing system ever manufactured by Stratasys. Even so, the capabilities of contemporary design software and AM systems leave him wide-eyed.
"I think this is like the renaissance of engineering," Enriquez says, assessing the technologies and contemplating the results of this redesign project.