Airline Orders for AM-Intensive Supersonic Passenger Aircraft
August 18, 2022
Boom Supersonic, which has been busy developing supersonic aircraft—with additive manufacturing (AM) a significant piece of the puzzle—in hopes of supplying commercial aviation, has accepted a deposit from American Airlines for purchase of as many as 20 planes, and an option to buy 20 more. This follows United Airlines contract last year to buy 15 aircraft from Boom Supersonic, and possibly 35 more.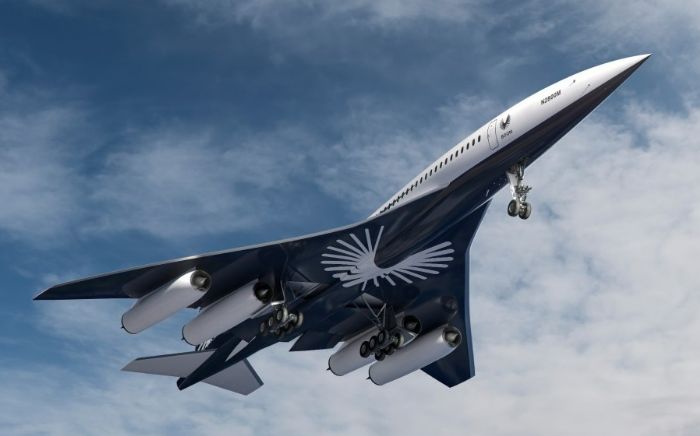 At last report, Boom Supersonic has refined the design of its Overture aircraft, which is projected to whisk 65-80 passengers across oceans at speeds approaching Mach 2 and over land at speeds 20-percent greater than current commercial aircraft. The company expects to have production aircraft built no earlier than 2025 and hopes to have them enter service by 2029. However, a host of safety and regulatory hurdles must be overcome to meet those timelines.
Boom Supersonic, based in Denver, CO, has relied on AM to develop and produce unique parts that can withstand the high temperatures and other challenges of supersonic flight. AM is uniquely capable of providing out-of-the-box deign and accelerated development from prototypes to accepted parts, including use of high-temperature titanium alloys and design of complex cooling channels and air/liquid flow routing.
For example, in 2020, Velo3D announced that the Boom Supersonic XB-1 developmental aircraft includes 21 titanium flight-hardware components manufactured by Velo3D's Sapphire 3D metal printer. The printed parts are used for engine-hardware, environmental-control-system and structural components. Characteristics of the geometric designs include tall, thin walls with high aspect ratios, difficult to manufacture with traditional processes such as welding and casting, or even most existing 3D-printing technologies, according to Velo3D officials.