Our Latest Issue
Latest Video
Upcoming Events
Upcoming events for Metalforming Magazine!
Free E-Newsletters
Sent bi-weekly to inform you of happenings within the metalforming industry.
SIGN UP HERE

Start receiving newsletters and gain access to all content throughout the site.

Magazine Reprints
MetalForming has been the leading source of metalforming industry news and information for more than 40 years. Leveraging media exposure with a recognized authority should be a crucial component to your marketing strategy. Reprint products allow you to capitalize on your coverage in MetalForming with several highly customizable options.
For more information contact Susan Cubranich at (216)901-8800 or
Reprint Opportunities
In the Classroom
Standard Reprints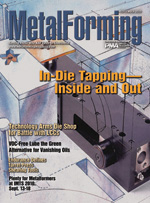 Produced on high-quality paper in quantities ranging from 500 to 20,000, standard reprints can feature the original editorial along with your own advertisements, company profile and contact information, and can be graphically enhanced with text highlights, quote boxes and other visual effects.
E-Prints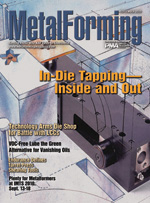 Showcase your positive press and your digital savvy. Standard e-prints are high-quality, hyperlinkable PDFs of a feature article that you can host exclusively on your website or distribute in an e-mail campaign.
Multimedia E-prints
Multimedia e-prints combine video (MetalForming editorial videos or your own), text editorial and interactive graphics into a content-rich experience for both new prospects and existing customers.
Reprint Compilations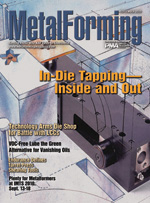 An expansive promotional tool for market leaders, reprint compilations combine multiple MetalForming features, past and present, that have highlighted your company and can include your own advertisements, whitepapers, product guides or company profile, among other options. Compilations can be as small as 2 pages or as large as 24.
Postcards
Launch a direct-mail campaign that is boosted by the MetalForming brand. Reprint postcards are ideal for short articles that announce the release of a new product, a corporate expansion or the receiving of an industry award, among other scenarios.
Blow-Up Posters
Blow-up posters make for impressive image-builders in the corporate lobby, conference room, shop floor or executive office.
Plaques
Plaques make for impressive image-builders in the corporate lobby, conference room, shop floor or executive office.
Additional Options
Customize Your Reprints
There is a wide range of possibilities when specifying your custom reprint. You can add your company logo or a quote from the article to the cover, highlight the most relevant text or insert your advertisement. MetalForming´s graphics professionals provide design services at no extra charge.

QuoteBox

Text Highlight 1

Text Highlight 2

Ad Insert
For more information contact Susan Cubranich at (216)901-8800 or