Tooling Article
Appliance Maker Follows a Trusted Quick-Die-Change Recipe
Friday, November 1, 2013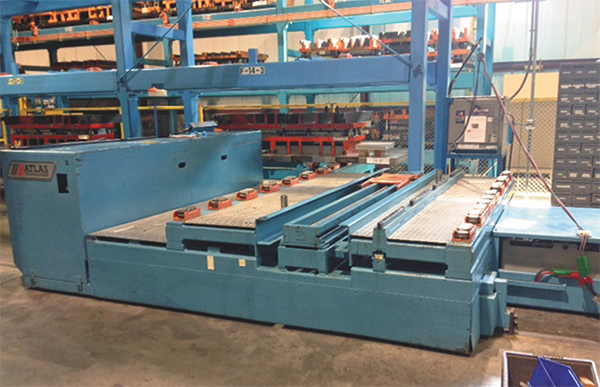 The Sub-Zero and Wolf pressroom runs more than 100 active dies, which weigh as much as 50,000 lb. To move its dies around the pressroom and back and forth from a pair of toolrooms, the firm relies on this Atlas die-handling cart that rides on floor-mounted track.

In 2007, the 30,000-sq.-ft. pressroom at the Sub-Zero and Wolf manufacturing plant in Fitchburg, WI, nearly doubled in production capacity. Welcomed that year: three Williams, White & Co. hydraulic presses (a 400-ton model and two 600-ton models), and a 600-ton Minster mechanical press with coil-feed line. It added the presses to support new-product introductions and to bring inhouse previously outsourced stamping work. "Those pressroom investments really strengthened our core competency in stamping and tool and die work," says Jeff Soule, fabrication supervisor for the manufacturing facility.

All of the new presses came outfitted with the same die-load/unload and clamping quick-die-change (QDC) equipment originally specified on the firm's existing hydraulic presses (300-, 600- and 900-ton models). QDC-system components, all Hilma equipment from Carr Lane Roemheld: hydraulically operated rollblocks; spring-return ledge clamps on the front side of each press; and hollow-cylinder-type T-slot clamps on the press backsides and upper slides. The hollow-piston cylinder clamps, according to Hilma literature, are designed to clamp dies on subplates with U-slots. With single-acting spring return, the cylinder's spherical washer adjusts to irregular clamping surfaces.

"Hydraulic die clamping provides the safe yet quick die changes we strive for," says maintenance superintendent Mark Long." "We don't have to worry whether or not the clamps are torqued appropriately, as we would with mechanically actuated clamps. Any chance for operator error is eliminated. We just have to program the required setpoints for the pressure on each clamp, and the press control monitors the hydraulic system to ensure we get the pressure we need.

"And, when we change dies," continues Long, "proximity sensors at each clamp location sense whether the clamps are in their home positions. The system prevents a die from being opened until every clamp is ready, so we don't open the die with one clamp still activated."

Expanded Die Storage Welcomes a Slew of New Dies

When the 450,000-sq.-ft. Fitchburg plant opened in 2000, a value-stream-mapping exercise called for surrounding the centralized 300,000-sq.-ft. assembly lines with 150,000 sq. ft. of fabrication and stamping operations. Material flows from the outside in.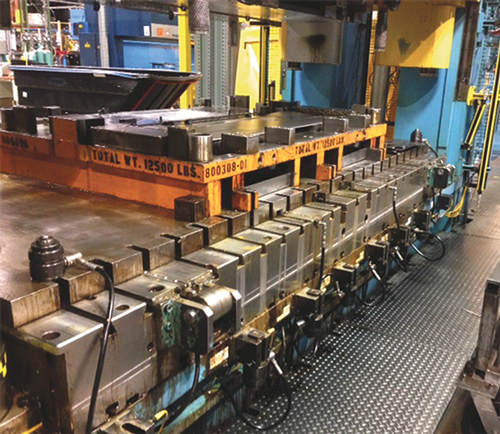 QDC-system components: hydraulically operated rollblocks; spring-return ledge clamps on the front side of the press; and hollow-cylinder-type T-slot clamps on the backside. The hollow-piston cylinder clamps are designed to clamp dies on subplates with U-slots. With single-acting spring return, the cylinder's spherical washer adjusts to
irregular clamping surfaces.

The Sub-Zero and Wolf pressroom runs more than 100 active dies, including 10 newer progressive dies that run in the newer Minster mechanical press. Dies, which weigh as much as 50,000 lb., move around the pressroom on an Atlas die-handling cart, which rides on floor-mounted track. The track links each press to a centralized die-storage rack conveniently located at one end of the pressroom. Track sections also run to a pair of toolrooms, one located at each end of the press shop, to minimize die travel.

"We recently expanded the die rack by 27 slots, to a total of 106 slots," says manufacturing engineer Pete Rounds, "to accommodate part production for our newly launched line of refrigeration and cooking appliances."

In addition to that main die rack, the shop maintains six smaller die-staging racks closer to the presses. During a press run, the operator can call for the next die in his queue and have it prestaged in one of these racks. The Atlas cart then can move the previous die from the press to the staging rack, pull the next die from the rack, and move it to the press.

Numerous Die Changes

Presses are scheduled to run relatively small batches of parts—a week's worth of parts inventory for the appliance assembly lines. Part volume per die setup ranges from 100 to 500 stampings, or a run in the press of as little as a couple of hours to a couple of shifts. Cosmetic parts (stainless-steel panels, for example) run at slower stroke rates, and therefore stay in the press longer.

Die changes take 45 to 60 min., says Long. That time includes completing a die inspection, looking for any wear that would require a trip to the toolroom for preventive maintenance (PM).

"Our operators follow a one-page PM inspection checklist at the end of every run," Long says. "When that's completed, a technician from the toolroom comes to the press and also performs a 5-min. die inspection, before we finally release the die back to the storage rack. Or, if maintenance is needed, the operator generates a work order and the die moves to the toolroom. The goal is to ensure that the dies are ready to go when we need them."

Along with developing a die-PM checklist to "engineer" the die-change process, Long adds that "we also performed a Kaizen-like event to 'engineer' our die-change routine. We developed a complete list of tasks to be completed with each die change, assigned a time period to complete each task, and then divvied up the tasks among the press operators to balance the load."

MF
See also: Atlas Technologies Inc., Hilma Div. of Carr Lane Roemheld, Nidec Minster Corporation
Related Enterprise Zones: Tool & Die
---
Reader Comments
Posted by: netrackindia on 3/11/2014 7:01:23 AM
Manufacturer of Floor Mount Racks. Server Rack of Floor Mount brings highest level of efficiency for Servers and Components in India
---
Visit Our Sponsors