Tooling Update
Quick-Change Fasteners Streamline Setups
Wednesday, September 1, 2010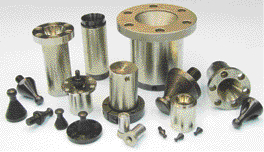 Tooling Technology, Fort Loramie, OH, introduces the Segen quick-change system that replaces nuts, bolts, fasteners and hand tools to reduce the time required to prepare platen, die and mold setups requiring clamping, fixturing and alignment. Segen quick-change devices consist of a steel cylinder lock and a corresponding knob. The cylinder lock, designed to receive and mate with a conical male knob, locates and positions the knob to within 0.0002 in. with a holding force as great as 25,000 lb./ device, depending on cylinder specifications. Positively locked in a static state, the cylinder lock actuates when air pressure is applied to release or receive the knob. The cylinder locks stay mechanically locked until pneumatic pressure is applied to automatically release them.
A typical tool setup that might take several hours to change out can be changed in a matter of minutes using the quick-change cylinder locks. Use the cylinders for precisely and quickly locating tools, jigs or fixtures, making changeovers and setups simple, safe and secure.
Tooling Technology: 937/295-3672; www.segen-online.com
See also: Edward D Segen Co
Related Enterprise Zones: Tool & Die
---
Reader Comments
Posted by: Ursula on 9/17/2017 6:48:59 AM - URL: http://restaurantenlivraison08631.blog2learn.com/6596210/about-delivery-food
I'm really enjoying the design and layout of your blog. It's a very easy on the eyes which makes it much more enjoyable for me to come here and visit more often. Did you hire out a developer to create your theme? Exceptional work!
---
Posted by: Kassie on 7/11/2017 1:27:20 PM - URL: http://projectgame.net/fifa-mobile-hack/
Thanks for the outstanding advice, it really is useful.
---
Visit Our Sponsors