New Products
Cool Your Shop with this Tough Fan
Wednesday, June 01, 2011
Big Ass Fans Lexington, KY, introduces Yellow Jacket, a portable, durable fan designed for flexibility and quiet operation. Features include: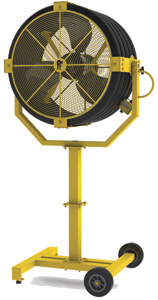 • Heavy-gauge steel carriage engineered to withstand harsh environments;
• Powerfoil-inspired blades for maximum efficiency and airflow coverage;
• Acoustically designed fan, motor and carriage for quiet operation;
• Oversized wheels and ergonomic handle for maneuverability;
• Multiple speeds and an easily operated locking-position mechanism;
• High-efficiency design to reduce energy use by more than 50 percent;
• Flexible positioning—mount on ceiling or wall; multiple floor-mounting options available.
Big Ass Fans: 877/244-3267; www.BigAssFans.com/yellowjacket
See also: Big Ass Fans
Related Enterprise Zones: Other Processes
---
Reader Comments
Posted by: Terry on 1/23/2013 9:17:28 PM
Hey cool weblog, just questioning what anti-spam software you utilize for feedback as a result of i get lots on my blog. Any, in my language, there are not a lot good source like this. gio xach
---
Posted by: David on 1/11/2013 3:32:34 AM
I love to explore I recently came across your blog and have been reading along. I thought I would leave my first comment. I don't know what to say except that I have enjoyed reading. Nice blog. I will keep visiting this blog very often. that lung nam
---
Posted by: AlexLe on 1/11/2013 3:31:45 AM
I want to confirm that, your post is so interesting. It contains a lot of important and useful information. I got a lot of great things. Thank you so much! http://lucyyou.com/kinh-mat
---
Posted by: TonyViet on 1/11/2013 3:30:18 AM - URL: http://verchini.com/that-lung-nam
Hello there, You have done an incredible job. I will definitely digg it and personally suggest to my friends. I am sure they'll be benefited from this web site.
---
Visit Our Sponsors