Tooling Update
For Carefree Slug Pulling
Monday, November 01, 2010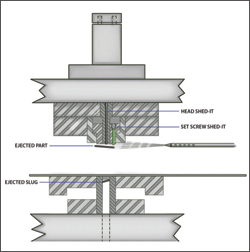 Designed to combat troubles related to slug/part retention, Shed-It Co., Newburyport, MA, introduces the Shed-It ejector system—perfect for stamping soft materials such as aluminum, copper and Tbrass alloys. Traditionally, slug and part retention resulted in tight tolerances between punch and matrix of 5 percent per side or less, with a slight negative opening on the matrix. With the Shed-It, stampers can increase tolerances to as much as 10 percent per side. The result is less tool wear and more parts per sharpening. According to company officials, users have reported a 27 percent increase in throughput, a 46 percent decrease in the number of setups and a 6.2 percent reduction in tool-maintenance time.
Dick Greenleaf, the inventor of the Shed-It, has been using the Shed-It ejector system in his own factory—high-speed stamping company Crystal Engineering (also in Newburyport)—for more than 2 yr. During that time, he says, the system has surpassed 50 million press strokes without a failure.
Headed Shed-It units are used inside a punch, while the set-screw model is used in a knockout and with other similar applications. Simply remove the old pin and replace it with the patented Shed-It. The ejector also can replace the spring in a traditional spring and pin ejector—remove the old spring, cut to length and replace it with the Shed-It.
The ejector system comes in four different diameters, from 0.050 to 0.125 in. For larger punch applications, as many as three of the units can be incorporated into a punch. Control the length by snipping off the end after installation—it should protrude 0.040 to 0.070 in. beyond the face of the punch.
Shed-It Co.: 978/465-6100; www.shed-it.com
See also: Shed-It, LLC
Related Enterprise Zones: Tool & Die
---
Reader Comments
Posted by: NubsIllus on 11/12/2013 3:05:06 AM - URL: http://www.bluepearlhotel.com/tnf.htm
When investigators tracked her down, she allowed them to get data from her phone, prosecutors said.I purchased this boat a couple of weeks ago for a great price. http://www.bluepearlhotel.com/tnf.htm - northface coupons This senseless crime is being heavily investigated right now, and hopefully the Seattle Police Homicide Unit is able to track down this killer very quickly.Website of cabeturf http://www.gallerythreshold.com/tnf.htm - the north face outlet berkeley When we went to the airlines counter the next day, the Aman representative had already checked us in and got us the best seats in the flight when we flew in.State police divers and Boston cops scoured the Charles River yesterday for any trace of 24yearold William Hurley, who mysteriously vanished outside a Bruins game on Thursday.
---
Visit Our Sponsors