The Science of Forming
Don't Believe Everything You Read
Saturday, January 01, 2011
January is a time when many technical articles and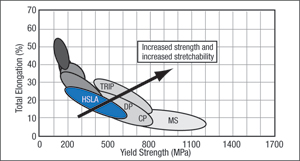 Fig. 1—The arrow indicates the higher strength and higher total elongation of the AHSS compared to traditional HSLA steels.




columns review successes or failures of the past year. Others provide suggestions on how to improve (insert your own topic) during the coming year. This month's column will present some metalforming statements that sound technical but are incorrect. Oversimplification can create a wrong statement. Others may originate from press-shop legends or war stories. Some were not proofread. The following statements need to be corrected regardless of the source.
• Stamping AHSS (advanced high-strength steel) can be challenging, as it has a higher strength and lower formability than conventional steel.
The first problem is the definition of conventional steel. One can always set up an undefined apples and oranges comparison and make whatever argument they wish. If you limit conventional steel to aluminum-killed draw quality (AKDQ) or the current designations of forming steel (FS) and drawing steel (DS), high-strength low-alloy (HSLA) steels will have higher strength and lower formability. Unfortunately the author is comparing a high-strength steel against a low-strength steel—apples versus oranges.
However, when discussing AHSS, HSLA becomes the conventional steel. When one compares AHSS against HSLA steels, the higher strength and lower formability statement is incorrect. The WorldAutoSteel (association of steel companies around the world) states that two targets are achieved with AHSS (Fig. 1). The first target is types of AHSS with better formability (stretching and bending) compared to equivalent yield strength HSLA steel. This is accomplished by the dual phase (DP) and transformation induced plasticity (TRIP) steels. The second target is different types of AHSS with higher yield strength that have equivalent formability of HSLA steel. These steels are the complex phase (CP) and martensitic sheets (MS). The diagonal arrow in Fig.1 clearly illustrates that AHSS have higher strength and greater formability than do HSLA steels when compared by yield strength. A similar curve for tensile strength shows the same results. The vertical axis in Fig. 1 is total elongation, related to bendability. Similar graphs can be created for stretchability based on the n-value, dome stretch test, milled hole expansion or other stretch-based tests. For the future, simply remember that metallurgists created the new AHSS microstructures specifically to make them stronger and more formable, to allow more complex part designs
• Cold working sheet steel work-hardens the material.
Yes, cold working steel does increase its hardness. However, forming modes such as stretchability and bendability do not correlate with hardness tests. This was stated back in 1940 by J. Dudley Jevons in his book The Metallurgy of Deep Drawing and Pressing. He said, "Hardness and cupping tests are best regarded by both suppliers and customers as an indication of the probability that some particular sequence of mill operations has been carried out, not as an indication of true deep drawing and pressing properties." The effect of cold working is shown by the stress-strain curve (Fig. 2). The slope of the curve from yield strength to tensile strength answers two questions. First, how
much does the stress (strength) increase as the material is strained (cold worked) during forming in the press? Second, how much does the strain (deformation) increase as the applied stress (load) is increased in a tensile test? The terms load, stress and strength are used and not hardness. Stretching is tensile elongation of sheetmetal in one or more directions that result in a reduction in the sheet thickness. Bending creates a deformation on the convex surface of the sheetmetal similar to a tensile test specimen.
In contrast, most hardness tests force an indenter of a specific shape and load into the material to create a crater whose diameter is then measured. A harder steel creates a smaller crater. While the hardness test does not correlate well with stretching and bending, it is an excellent predictor of wear resistance.
Why then is increased strength during cold working called strain hardening? The early days of blacksmiths, press shop workers and metallurgists needed to measure how cold working changed the characteristics of the steel. Different types of hardness tests were readily available and easy to use. Therefore, work hardening became the term to use. With the current science of forming, the term really should be work strengthening. Changing the term work hardening probably is not going to happen. However, we should always think work strengthening and forget the hardness test.
• All forming of AHSS must be made in the first hit because the steel work hardens, becomes brittle and fractures.
This statement has two problems. First, designing the AHSS forming process to maximize the amount of deformation in the first die is an excellent goal. However, the statement implies that further deformation in a second or later die is not possible because the steel work hardens too much in the first die. The material can withstand multiple forming operations until the sum of the deformation reaches the forming limit curve. The first problem occurs when the part is removed from the first die. Springback can be excessive and variable, which makes proper fitting into the second die difficult. A much larger force is required to resume deformation in the previously highly deformed zone because of the greatly increased yield strength. Other less deformed areas with lower yield strengths now may initiate unwanted deformation. The forming problems with AHSS are similar to those found with HSLA steels but usually are a much greater magnitude.
The second problem with the statement is the AHSS work hardens and become brittle. The amount of total elongation may be small for some of the higher-strength AHSS (Fig. 1). The local necking alongside the fracture line may be minimal. However, a metallurgical evaluation of the fracture zone will show a cup-and-cone fracture surface of ductile steel. The actual failure mode at the fracture surface determines ductile or brittle failure—not the amount of deformation.
Most of the technical literature is accurate and prepared by well-qualified experts. However, errors do occur. The reader has to carefully judge if statements are correct or in error. If the statement is important to your work or project, double checking with one or more sources is always a good investment of time. Then tell your associates about the errors. MF
---
Reader Comments
Posted by: Adockyencoche on 11/12/2013 8:23:06 PM - URL: http://www.cheapnfljerseyschinatt.com/Nike-NFL-Jerseys-cn-23_Cleveland-Browns-Jersey-cr-46/
Correctly, WHEN I seemed Jonathan Vilma Womens Jersey to be. Among the finest means to make this happen using some sort of circuit. Uncomplicated routines, including taking walks with a stairway, is usually best to your overall health. Area some sort of ring finger with your style pack while you are for the most competitive Roman Harper Womens Jersey notice you possibly can head out you need to to return the degree. Flashing groups can be regarded to get the place connected with extravagance in addition to ease, some sort of protected location when you will probably, where by their desires in addition to needs usually are consistently attained. Sportsbooks bet can allow you to Garrett Hartley Jersey be acquire lots of dollars.
---
Posted by: Adockyencoche on 11/7/2013 1:00:26 PM - URL: http://www.lighter-you.com/
options. This is important because it will ensure that you get those with adequate knowledge as indicated by their profile page. Take the time to inspect their work and ask any questions that you may have. Cruises Cheap NFL Jerseys are among the enjoyable experiences that people look forward Cheap NFL Jerseys Online to experiencing. Some places, prefer West Coast, others East Coast and still others, Southern hip hop.Article by Kay Nelson The first dog training club recognized in the United States may have been the New England Dog Cheap NFL Jerseys From China Training Club which held its first obedience trials in 1937. For example, some sprays produce a cooling effect extinguishing flames. Lime wire also uses Gnutella and Bittorrent protocol. Those with small children should be on the constant look out for it
---
Visit Our Sponsors