Spotlight
PMA Board of Directors Holds Summer Meeting in Lake Tahoe
Friday, August 1, 2014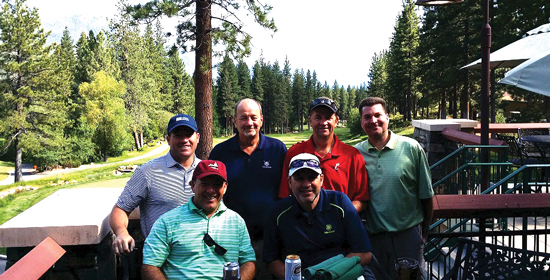 Board members enjoy a round of golf in Lake Tahoe. Back row (l to r): David Klotz, Ron Lowry, Jody Fledderman, Chip Michaelsen. Front row (l to r): P.J. Thompson, Scott Prince.

Members of PMA's board of directors gathered in Lake Tahoe on June 14-15 for their summer meeting, where they heard reports on the latest association activities and participated in brainstorming sessions. Key areas of discussion included engaging PMA's districts, divisions and others in growing the membership; developing a new executive leadership event to be held in January 2015; and hosting an independent PMA Annual Meeting beginning in 2016. The meeting also featured networking social events for the board members and their families, including a boat tour of Lake Tahoe and group dinner.
See also: Precision Metalforming Association
---
Reader Comments
Posted by: Kenny on 6/17/2017 9:21:04 AM - URL: http://www.tepgames.com/respawnables-hack/
Greetings! Very helpful guidance on this article! It's the small changes that make the biggest changes. Thanks a lot for sharing!
---
Visit Our Sponsors