Articles
Pioneer Metalformers Invest in Workforce Development
Case Study: Oberg Industries, Freeport, PA
Tuesday, May 1, 2012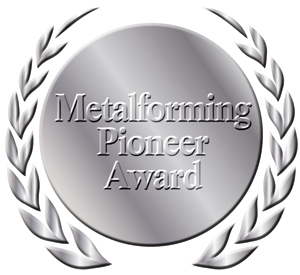 A home-grown apprenticeship program serves as the lynchpin of Oberg Industries' world-class training efforts. The metalformer, die designer and die builder is based in Freeport, PA, and registered $105 million in sales in 2011, 30 percent higher than 2009, when Oberg, along with the rest of the stamping industry, faced tough times. Since 2009, the company also has invested in people and technology, raising employment by 11 percent. In sum, Oberg adeptly juggles its differing machinery and diverse customer base via a highly trained, highly motivated workforce—precisely why the company is a Hitachi Foundation Pioneer Award winner.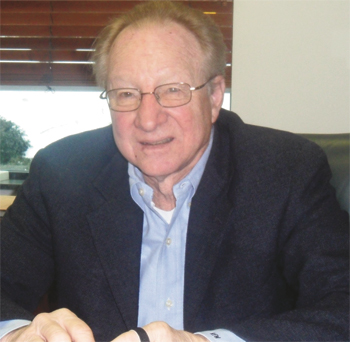 "Most of our employees are problem solvers and very good with their hands," says Oberg Industries president and CEO Bob Wagner. "They don't like to be closeted in one particular area—they want to carry a broad brush and reach across boundaries."
"It started with the founder of the company, Donald E. Oberg" explains Bob Wagner, Oberg Industries president and chief executive officer, reflecting on the origins of the company's workforce-development efforts. "He saw the need to have a trained workforce and intelligent employees, and created a world-class apprenticeship program that we inherited and continue to nurture."
Oberg operates two U.S. plants that employ a total of 545 full-time associates, the majority of whom rose through company ranks thanks to the Oberg apprenticeship program, the first such U.S. program to be state-certified. A typical career path at Oberg may include apprentice, journeyworker, lead, department supervisor and manufacturing manager, which then can lead to senior-level executive positions. Apprenticeships provide career paths all across the company's production spectrum. Production personnel include machinists and technicians, who comprise 69 percent of production employees, with stamping-press operators comprising 15 percent. Engineers, programmers, inspectors and project managers provide the balance.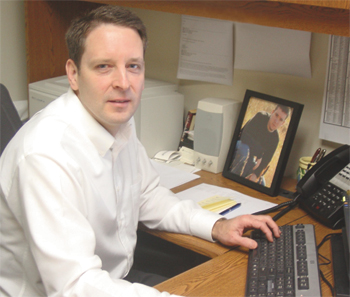 "Outside of the formal apprenticeship program, we provide cross-training," says Nick Dilick, director of manufacturing, "which broadens employees' horizons and skill sets while helping us tackle workflow challenges. Our people are well-trained and very attractive to us, and attractive to other employers. Fortunately, our turnover is very low."
Oberg's formal apprenticeships reflect the firm's significant training commitment, which also includes numerous internal training programs. These consist of on-the-job, classroom, computer-based and video-based training. In 2011, Oberg dedicated 2.87 percent of its company payroll to fund training, with an average training expenditure of $1620/employee and the average training time approaching 93 hr./employee. By comparison, the 2011 American Society for Training and Development State of the Industry report shows that the average percentage of payroll spent on employee training was 2.7, with average annual training expenditures amounting to $1228/employee and training time totaling 32 hr./employee.
Overall, Oberg typically dedicates one percent of annual sales to fund training, with training budgets determined by company need.
Driven by Competency, Not Longevity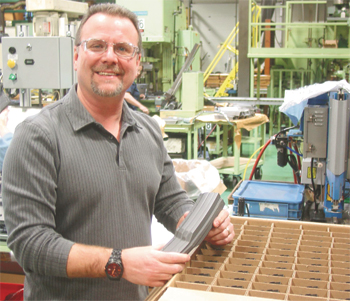 ""During interviews with potential employees, I boast that I started out from vocational school with Oberg Industries and was able to move up. As a high school graduate, I'm able to make a great living today," says Scott Adams, stamping division manager and 26-yr. employee.
Oberg's apprenticeship program began in the 1950s and switched from time-based to competency-based in 2001. It provides increased rates of pay as skills are obtained. Pay rates typically rise by nearly 50 percent—in increments—by completion of the apprenticeship.
"We changed to competency-based to get a better handle on what employees were proficient at and where they needed help," says Greg Chambers, Oberg director of corporate compliance. "With competency-based training, we could assess employees' abilities and more quickly make them productive."
Competency-based apprenticeship training has reduced apprenticeship time by as much as 13 percent compared to the traditional 4- or 5-yr. time-based apprenticeship previously offered by Oberg, according to company officials. While many in the industry have suspended or terminated apprenticeship programs due to the recent economic downturn, Oberg has graduated 36 apprentices since 2007.
A Company Defined
by InnovationOberg Industries manufactures complex, precision stamped or machined metallic components. It pioneered the use of tungsten-carbide components in the manufacture of high-speed stamping dies, which revolutionized the tool and die industry as it offered approximately 10 times the wear resistance of high-carbon, high-chrome tool steels. The company also benefitted from adopting a number of manufacturing technologies, including stamping, hydroforming, high-speed milling, turning, and wire and plunge EDM. Oberg also has developed a proprietary advanced grinding technology known as Molecular Decomposition Process.
Technical and manufacturing prowess allows Oberg to service a variety of markets, including aerospace, automotive, consumer/industrial, defense, energy, housing/construction, medical and metal packaging. Oberg's global manufacturing footprint includes operations in Pennsylvania, Costa Rica and Mexico. Each manufacturing facility is ISO-certified and operates under one or more of the following standards: ISO 9001:2008, ISO/TS 16949, ISO 13485 and AS9100 Rev. C
Instructors in the apprentice program come from community colleges, community-based organizations and Oberg itself. Since the program's inception, more than 1000 employees have traveled its path, with graduates filling all levels of the organization.
The company uses assessment tools to qualify applicants for employment, including customized assessments developed and administered by licensed psychologists. With Oberg's intense training regimen, the company can hire new employees with no experience and quickly move them into production positions, provided that the new hires demonstrate aptitude. By emphasizing cross-training, the company develops a flexible workforce adept at staffing and operating workcells.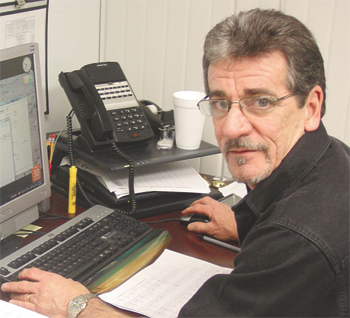 "As the pressroom manager, apprenticeships and training requirements can pose a scheduling challenge, but if we have someone without the needed training, we can end up with a broken tool," says Mike McKinnon. "Oberg Industries is like a family. It's taken care of me beyond what any other company ever has. I have attended a lot of classes and seminars in my 19 years here—Oberg has provided me with training for everything I've needed to learn."
"We surveyed employees in 2010 and found that interest in cross-training was extremely high," says Wagner, "due to our culture that recognizes the benefits of training. Cross-training challenges employees and makes them more valuable, and provides more flexibility to the company."
Cross-training is a trend that continues to grow, not only at Oberg, as more than 40 percent of U.S. manufacturing employees participate in cross-training programs, according to Chambers. And besides assisting the company, cross-training provides employees with varied skills that enhance job security.
Training metrics at Oberg include return on investment, productivity, efficiency, direct labor, scrap, rework and training hours (see Tracking Training—ROI by the Numbers sidebar). These metrics can be tracked on an individual or class group basis.
Apprenticeships may proceed similarly to the training provided to a new hire working toward becoming a journeyworker stamping operator: one week of general safety training; two weeks on plant maintenance; two weeks on die maintenance; and two weeks on quality and dimensioning. After this general training, apprentices delve into stamping-operator specifics.
Assessments Determine a Starting Point
Leadership Promotes ManufacturingThe generations of employees of Oberg Industries are the true legacy and backbone of the company's years of success, according to company officials. Maintaining these people and getting newcomers interested in pursuing careers in manufacturing are no easy tasks, and Oberg Industries goes to great lengths in such efforts.
For example, the company actively recruits new employees, and also encourages personnel to become involved in industry initiatives and community activities to promote manufacturing. For example, Greg Chambers, Oberg director of corporate compliance, is a long-standing member and current chairman of the National Institute of Metalworking Skills (NIMS), leading the to establish national performance standards. Chambers recently was appointed to the Advisory Committee for the U.S. Dept. of Labor on apprenticeships and is co-chairman of the precision machining technology competition of the National- Skills USA program. He has also served as the past president of the American Apprenticeship Round Table.
Dave Crawford, Oberg human resources manager, champions the cause for talent acquisition, regularly seeking hard-to-find CNC specialists and machinists with the right skill sets. Unique about Crawford's approach, he lobbies the marketplace, visiting more than 80 schools annually, serving on five advisory boards and participating in the PA Center of Advanced Manufacturing - State Initiative and the PA-Skills USA. Crawford's leadership champions the cause to place Oberg's name out there, and promotes the manufacturing industry to the academia leadership that regularly counsels America's youth on career issues.
Neil Ashbaugh, Oberg senior market support specialist, has collaborated with the company's human resources department to promote branding of the business to potential employees through his involvement with the Butler County, PA, Manufacturing Consortium and through his work with county and state economic development agencies as well as with elected officials. His goal: Positively influence people, families, and businesses to uplift manufacturing business causes and the potential for local jobs.
Not a one-size-fits-all operation, Oberg's apprenticeship program is dictated by the assessed skills of the employee and the requirements of a particular job. Off the bat, within one year new apprentices complete more than 90 online classes, on company time. This helps assess the self-starting nature of employees.
"We have found that self-motivated employees who quickly complete the online classes shine on the shop floor," says Chambers, "whereas those without much enthusiasm or who seem tentative about online training tend to struggle on the shop floor."
Shop-floor and other training follows, with an apprentice coordinator assigned to each job area. The coordinator interacts with apprentices daily, ensuring they complete their weekly apprenticeship tasks.
"Formally, we evaluate apprentices every six months," says Lou Proviano, director of human resources. "If they do well, they receive a pay bump and we keep moving them across the competency line."
Besides the pay increases and satisfaction of earning journeyworker status, apprenticeship graduates become eligible to receive third-party credentials that follow them throughout their careers, inside and outside of Oberg.
Solid Wages and Benefits Attract, Keep Talent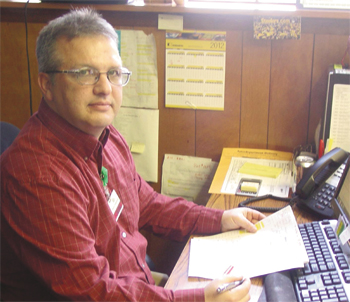 "Being responsible for a quick-turnaround department, cross-training provides me with versatile employees," says Tim Wiles, production supervisor and 30-yr. employee who started with the company as an apprentice. "I've received a lot of training for leadership and for dealing with people, to prepare me for supervision. There are a lot of good mentors in this company."
The apprentice pay and skills bumps are part of an overall solid employee-benefit mix that allows Oberg to attract and retain talent in a competitive region. Starting wages for production employees average 20 percent higher than most other local companies in the metalforming industry, according to Oberg officials, and the company regularly benchmarks for competitive pay and benefits packages. Importantly, due to business demands, for more than 30 yr. Oberg has provided more employees the option of working 50 hr./week or more, typically in 10-hr., five-day shifts. The added hours certainly put more money in employees' pockets.
"This provides 20 hr. of overtime at 1.5 times the employee's hourly rate every two weeks," explains Proviano. "The result is almost 38 percent more in the paycheck of the average machinist, machine operator, toolmaker, press operator, mechanic and apprentice. This overtime model has been part of the fabric at Oberg for many years, where our employees have touted some of the largest W2's in the valley in our industry. While smaller shops use the overtime tool as the exception to managing business demand, we use it as the Oberg standard. And in recent years, we've even offered flexible work schedules, allowing for a range of start-finish times to allow employees to better balance work and home life."
Oberg also provides merit reviews for wage increases, and offers shift-pay differentials of as much as 20 percent plus additional incentives for lead personnel. In addition, the company offers an annual bonus program based on profitability that has provided additional employee income. On average, Oberg offers merit raises of 2 to 3 percent, coupled with bonus payouts of 2 to 3 percent. In 2011, the company delivered a 2 percent merit pay program and paid bonuses of 3.34 percent. These bonuses are paid on all earnings, including the company's standard overtime (where a 50-hour work week is normal), shift differentials and other premiums. Thanksgiving gifts and Christmas bonuses, special vacation-accrual incentive depending on the average hours worked all year, a frozen defined-benefit retirement plan, ESOP retirement plan and matching 401(k) plan are other perks. Employees are recognized through a service-awards program as well as merit and values awards.
Software Streamlines Training
Recently purchased software provides recordkeeping for training, allowing Oberg to track training and assignments related to the firm's various aerospace, medical and other certifications.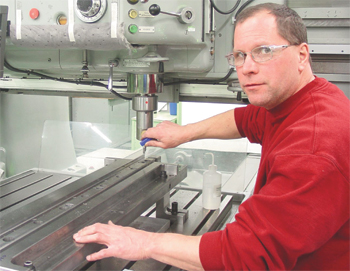 "I really like the alternate work schedule," says toolmaker Bill Hewitt. "We can start at different times as long as we work 10-hr. days and our schedules don't conflict with machine operations on the next shift. I work from 5 a.m. to 3 p.m., which allows me to spend more time with my family."
"In 2011, we added the AS9100 Rev.C aerospace certification as well as the ISO 1345 medical certification," says Dave Rugaber, Oberg executive vice president, sales and marketing. "These certifications, above and beyond what we typically do for our typical ISO standards, required additional training documentation."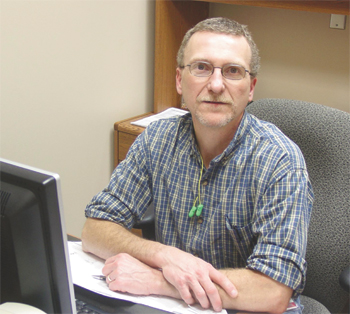 "In our industry, it's hard to find good people and keep them," says purchasing manager Eric Johnson. "Taking the time for training shows that the company cares."
"With the software," adds Proviano, "we are more diligent and getting better at keeping tabs on the competencies and skill sets in the organization."
A better handle on training, resulting from the sotware, enables Oberg to tailor its training programs and avoid time- and money-wasting instruction that may be repetitive or inconsequential.
Technology Investment Spurs Hiring, Training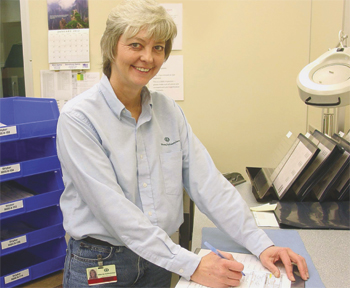 "I came here wanting to learn and didn't want a dead-end job," explains quality inspector Nancy Macurdy. "I went through the apprentice journeyworker training, and kept telling my boss that I wanted to learn more. Here, if you have the desire to learn and a positive work ethic, you can take the career path that you want to. The pay is good, and Oberg has provided me with a good job and family balance."
The company recently held a career open house to find experienced talent or potential employees with the aptitude and drive necessary to enter the apprenticeship program. New hires are needed to run metalforming and machining equipment that Oberg consistently adds to its stable. Over the past 3 yr., the company has invested more than $10 million in capital equipment, including milling, turning, and multiaxis machining centers as well as stamping presses and EDM equipment. While many industrial companies held back on equipment investment while riding out economic uncertainty, the unique level of capital spending by Oberg over this period represents a commitment to employees and shareholders that the company is in business for the long haul. Of course, adding new equipment means preparing employees to run it.
"To operate such advanced equipment, we are hiring more seasoned people," says Chambers, "and we are using the National Institute for Metalworking Skills (NIMS) performance standards to assess them and learn how we can augment their skills with our own training programs."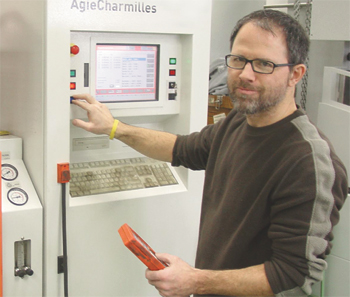 "Another deaf person was working here, so I was interested," explains wire-EDM operator Scott Craig, who went through a 4-yr. apprenticeship and has worked for Oberg for 15 yr. "I work on three machines alone, or sometimes partner to work on five. This job is a lot of fun. I have to think every day, but the time goes very quickly."
Oberg has tweaked its training programs to match the requirements of operating its newest and most sophisticated equipment, says Wagner.
"As we populate the floor with new equipment," he says, "we see a need to have a short-term training mission or platform in tandem with the longer-term apprentice program. So we might hire someone with minimal experience but who can learn how to run that machine with the notion that they will be productive one week after they get here. So we will train for that, but the training does not end there. These personnel then will enter our formal long-term training programs."
Company-wide, including non-U.S. operations in Costa Rica and Mexico, Oberg's employee base has risen by 11 percent since 2009 to a total of 728 employees. In 2011, the firm added 40 employees and is looking to add 20 more in the near future.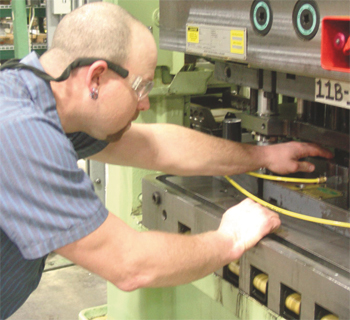 Press operator Mike Urik worked at Oberg for six years and went through the apprenticeship program, then left the company, only to return five years later. "I started on the press floor, and they saw that I was a hard worker," he says, "so I was placed on some special jobs and projects and have moved up."

For employees already in the Oberg Industries fold, the company has embarked on a project-management initiative.

"We are providing formal training for about 20 employees whom we have identified as having the skills and abilities to become project managers," says Wagner, describing the 2-yr.-old program. Training includes classroom and on-the-job instruction, with management selecting a few projects where trainees can learn to report and analyze data, and follow work through the manufacturing process. Project managers form a bridge between management and shop-floor personnel, with all parties benefitting from the exchange of ideas and information, according to Wagner.

"Front-office personnel may not als understand what exactly occurs on the shop floor, and the employees on the floor may not understand front-office concerns," he says. "We've tried to bridge that gap, and the feedback through our project-management initiative helps do that." MF




Tracking Training—ROI by the Numbers

Training can be a feel-good term. While every company boasts of training efforts, return on investment (ROI) can be elusive. Not so at Oberg Industries, where all sorts of training data illustrate an efficient ROI.

The shift from time-based to competency-based apprenticeship training has enabled the company to know, with certainty, what each graduate can do, according to Greg Chambers, Oberg director of corporate compliance.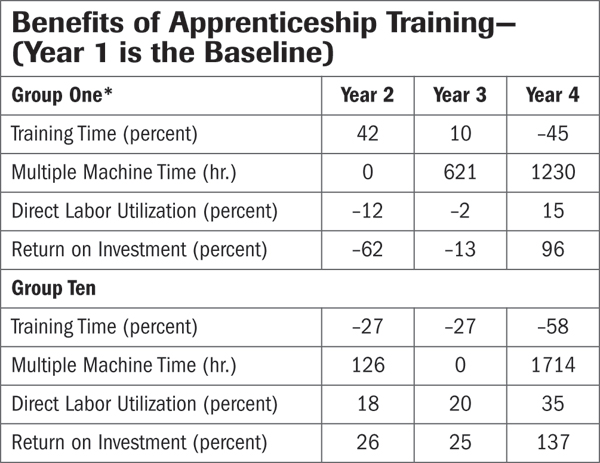 *This chart tracks apprentices in a variety of job classifications at Oberg Industries. Group One was the first group to go through the competency-based apprenticeship program, while Group Ten was the most recent group to complete it. Completion of an apprenticeship occurs on an individual basis, but the majority of apprenticeships are completed within 4 yr.

"This is critical in a work environment where you have a constantly changing product mix," he says, "and competency-based training provides us with the ability to quickly move human resources to areas with the greatest need.

"The training shift a from a rigid length of time also benefits employees, allowing them to more quickly earn higher wages associated with increased training, and more quickly attain skills that make them valuable assets, thus assisting in job and career security.

Training time is the percentage of work an employee's time charged to training. For example, in Group One, Year 2 training time rose by 42 percent over Year 1. With each passing year, training time decreases, with the percentage representing a change from the Year 1 baseline. So in Year 4, Group One charged 45 percent less time to training than in Year 1, while for Group Ten training time decreased by 58 percent compared to Year 1. Ideally, the time charged to training should decrease, with more time charged to production.

Multiple machine time tracks the ability of one operator to run multiple machines, a huge push at Oberg, where the company strives for cellular and lights-out manufacturing. Group One failed to register any multiple-machine time in Year 1 or Year 2, as its members did not learn their craft well enough to run multiple machines until Year 3. By Year 4, training had resulted in more than 1000 hours spent running multiple machines. Group Ten shows a similar trend.

Direct labor utilization tracks the amount of time an apprentice spends performing direct labor, as opposed to time spent training, performing maintenance or doing other tasks not directly related to production. For example, Group One had a 15-percent increase in Direct Labor Utilization for Year 4 apprentices relative to their first year. The percentage trend is even more impressive when considering the employees' increasingly complex job assignments each year.

ROI represents how apprentices are bringing revenue to Oberg. By Year 4, Group One apprentices generate $96 for each dollar spent on training. The return is even greater for Group Ten apprentices, reflecting improvement in worker performance as the competency-based apprenticeship program evolves.
See also: Oberg Industries, Inc.
Related Enterprise Zones: Presses, Tool & Die
---
Reader Comments
Posted by: Jeremy Densmore on 6/22/2012 10:49:46 AM - URL: Oberg.com
Oberg is a Fantastic place to work. I was there for 8 years on the stamping floor. I completed the Precision press operator Apprenticeship Program and was involved in a mentor program they started. I left shortly after to pursue an education and career in computer technology. 4 years and 2 jobs later I have returned to what feels like "Home" and I am once again part of an excellent Team. The front office side is definitely a change of pace, but you are still expected to uphold the Oberg Standards that are instilled into each of it's employees. Oberg really is a professional and forward moving company and I am very happy to be a part of it once again!
---
Visit Our Sponsors