Tooling Article
What's New in Die Design
Wednesday, May 1, 2013
The latest die-design and simulation software continues to help tooling estimators, engineers and builders eliminate costly delays and deliver tools that function correctly from the get-go. New features and functionality reduce design time and help reduce lead time from project initiation to pressroom production. Software providers have zeroed in on ease of use, faster processing, increased automation features, more canned routines and intuitive graphics tools to keep die designers and builders, as well as stampers, competitive.
In advance of MetalForming magazine's Die Design and Simulation Software Experience, May 29-30 in Grand Rapids, MI, we've surveyed the landscape to see just what software providers have been up to.
Do More with Fewer Keystrokes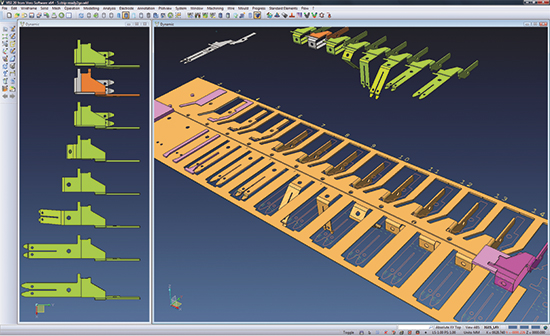 Flexible strip layout with VISI 20 enables a designer to start with the developed component blank and quickly formulate a 3D strip layout. Automatic blank alignment, rotation and optimization help plan a more efficient strip. Also, punch design and layout become more effective with the use of the automatic 2D strip plan, including fold lines.

Doing more with less effort and working smarter, not harder, are recipes for speed and efficiency. These recipes hold true for die-design software.

"Everything we do relates to fewer keystrokes, accomplishing more in one command and in one dialog box so that the user need not jump around," says Eric Bragg, sales representative at TST Tooling Software Technology LLC (www.tst-software.com), Clarkston, MI. "We call it 'composed commands,' bringing everything under one hood so that when you are doing these repeat-type procedures, one dialog box contains all of the tools."

That timesaver is one of many Bragg notes when describing VISI 20, the latest version of the software that TST markets for tool, die and mold design and build. It's set for rollout at the beginning of 2014.

The ability to work with an extensive range of CAD interfaces can save designers and builders precious time. For its part, VISI 20 can work directly with Parasolid, IGES, Catia v4 and v5, Pro-E, UG, STEP, Solid Works, Solid Edge, ACIS, DXF, DWG, STL and VDA files. Very large files can be handled with ease, according to company officials, and companies working with complex designs benefit from simplified manipulation of customer CAD data.

Building on that capability, "we can incorporate FEA and formability results very quickly into the strip layout," Bragg says.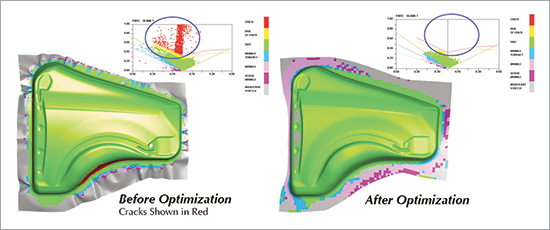 The Dynaform 5.9 die-system simulation suite from ETA contains a new Optimization Platform module designed to reduce development time and cost for manufacturing by reducing incidents of wrinkling, thinning and tearing. It does this by supporting optimization of drawbead forces along with binder pressure, lubrication, and workpiece material type and thickness.

Flexible strip layout also simplifies the process and cuts design time. For example, starting with the developed component blank, a designer can quickly formulate a 3D strip layout, Bragg notes. Automatic blank alignment, rotation and optimization help plan a more efficient strip. Also, punch design and layout become more effective with the use of the automatic 2D strip plan, including fold lines. A variety of automatic and semiautomatic tools help to create shearing punches that, once created, can be dynamically moved to different stages in the strip, simply by using drag-and-drop. Step-by-step unfolding allows the designer to plan each forming stage by dynamically adjusting bend angles. And, it's possible to incorporate parametric features such as ribs and bosses that can be activated or deactivated as required at forming stage.

Placement of 3D folding stages into the strip occurs seamlessly, and the strip can easily be updated to accommodate a reduction or increase in number of stages. At any point it is possible to access all of the strip parameters, including width and pitch, for modification when required. In addition, the 3D strip can be simulated at any point to check the design's validity and performance.

Deeper Libraries

In recent years, component libraries have been bolstered to help designers find what they need in a hurry. This is true in VISI 20. The software's proprietary component builders reportedly enable rapid and accurate placement of each standard component and ensure that modifications can be made at any stage during the project. Each component has a full list of editable parameters enabling essential adjustments to suit individual tooling requirements, including creation of clearance holes for each component. In addition, all components come with manufacturing-data attributes and a full parts-list itinerary.

Additional time savings come thanks to the ability to access data for use on future jobs. In VISI 20, "we improved the tool-building engine, where users can create a set of rules pertaining to each customer's requirements," Bragg explains. "For example, what types of materials does Customer A require as opposed to Customer B? Plugging that into the tool list allows users to gain efficiency on each job. Users do not have to redo the work; instead, they have everything at their fingertips. They can create requirements once, associate it to the tool wizard, and gain the benefit of having that information available for the next time."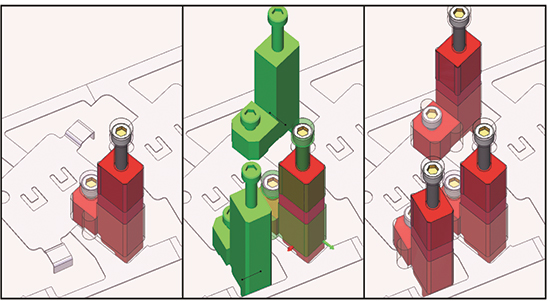 A new feature for Logopress3: the ability to automatically color the face of a hole when placing a dowel. The user can easily teach the software to automatically color press-fit holes red, slip-fit holes green and drilled holes—such as counter-drilled clearance for a dowel—yellow. The software then will default to use these colors each time the designer adds a dowel to the die.
Increasingly, software, besides accepting a greater variety of imported files, packs more into its offerings. VISI 20, for instance, introduces a Flange On Curve command that allows nonlinear-bend unfolding.
"Previously, you had to take that to a third-party product or perform it manually," says Bragg. "We now have algorithms to unfold nonlinear bends along a flange line. It adds speed and efficiency, allowing the designer to get the job done without having to wait for outside work."
As computing power has increased, software providers have added features that were not previously available. For example, VISI 20 offers animation so users can visualize cam movements and other tool actions, as well as collisions. And in another nod to increased computer-processor speed, the software installs 32- and 64-bit versions.
Even though software has evolved to perform ever-more complex functions, it also can help users make decisions in a hurry.
"This is open, free-form modeling software," Bragg adds. "It can perform 50-percent reviews quickly. Designers can waste a lot of time trying to get everything solved up top and planning for all of the what-if scenarios. Now the software can give them important information quickly, without forcing them to spend time in a lengthy process to get results."
Optimized Forming Simulation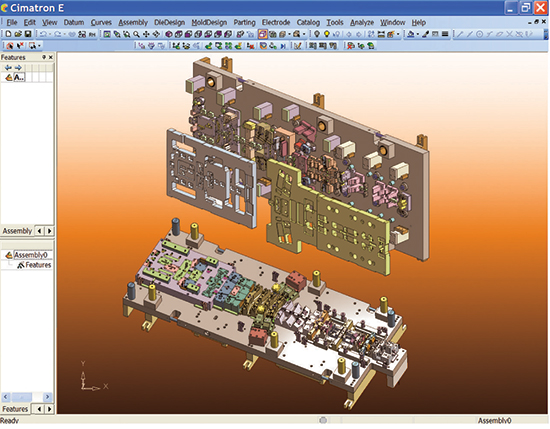 Software flexibility can significantly ease a designer's challenges. For example, CimatronE 11 allows users to adapt to a variety of die and forming needs, including the ability to design progressive and transfer dies within the same interface.

Nothing spells aggravation like seeing a wrinkled or torn part on the press bed, after tool design and build. Not only a time waster, such a scenario grinds production to a halt, puts a contract in jeopardy and sends money spent on materials, tool construction and salaries up in smoke. Fortunately, software makers deliver solutions to help prevent such catastrophes. For example, Dynaform 5.9, a full-featured die-system simulation suite released in 2013 by Engineering Technology Associates, Inc. (ETA—www.eta.com), Troy, MI, contains a new Optimization Platform (OP).

The OP module contains proprietary SHERPA optimization technology from Red Cedar Technology, East Lansing, MI. It reportedly reduces development time and cost for manufacturing by reducing incidents of wrinkling, thinning and tearing. It does this by supporting optimization of drawbead forces along with binder pressure, lubrication, and workpiece material type and thickness. Importantly, as powerful as this function is, it makes optimization viable for a larger set of users, say company officials, since special optimization expertise is not required. Additionally, the latest computing platforms combined with an efficient solver eliminate demanding computing requirements.

"This solution allows quick and accurate optimization of die-face design, saving product-development time," says Arthur Tang, ETA vice president. "For many years, tooling engineers have used Dynaform as a virtual tryout for metal stamping. Now they can go beyond identifying problem areas by incorporating design optimization to improve performance and quality—removing wrinkles and cracks."

The OP module uses the same common interface as the other four Dynaform modules: Blank Size Engineering, Die Face Engineering, Formability Simulation and Die System Analysis. These four existing modules have been enhanced in Version 5.9.

"Drawbeads are designed to restrict the blank from wrinkling and splitting in a forming process," Tang explains. "Traditionally, adjusting drawbeads required the layout of a large and complicated drawbead setup, which can be very challenging and time consuming. Achieving a formable panel or part through this traditional drawbead-optimization process can take weeks. Now, by accurately optimizing drawbead forces using the module, along with modern computing power, the process takes only days or hours. And it doesn't require supercomputers or cloud computing."

Bob Ryan, CEO of Red Cedar Technology, agrees.

"Until now," he says, "optimizing die systems was too difficult and time-consuming to be practical for most applications."

Given advancements in die design afforded by evolving software, the industry has powerful tools at its disposal. The key, Tang says, is to make use of it.

"The tooling industry must pursue new advanced methodologies to compete in the worldwide market."

Accuracy Triggers Lead-Time Reduction

"Nothing reduces lead times more than an accurate die design that requires little or no development or debugging," says Ray Proeber, president of Accurate Die Design Inc. (www.accuratediedesign.com), New Berlin, WI. The firm is a user and reseller of SolidWorks-based Logopress3 3D die-design software from LOGOPRESS Corp.

"Companies are starting to capitalize on the realization that the design is a small fraction of the total cost of building a die," says Proeber, "and that the larger build phase of the die, including tryout and debugging, is where the real money is made."

By simplifying the design process while providing accurate information essential for proper formation of tooling, software can make life easier and more profitable for its users. Visualization is one software has improved the design process.

"While we have had animation and dynamic interference detection for years," Proeber says, referring specifically to Logopress3, "we now have enhanced this with the ability to animate cams, pressure pads, lifters and other die components. This tool by itself goes a long in minimizing mistakes."

Ease of communication also can cut lead time and costly mistakes.

"Reducing the need for communication also is key," Proeber explains. "Today the die designer is dramatically more responsible for the die than are the employees machining the components or assembling the die. We expect that the design will be 100 percent correct when it reaches assembly. One we reduce the need for communication—thereby reducing mistakes—is to provide a simple for the designer to communicate the tolerance and the machining method of each individual holes in a given plate.

"We do this with two different methods," Proeber continues." For years we have been able to easily customize spreadsheets with hole sizes for a particular component. In the case of a dowel pin, for example, every die maker knows that a press-fit pin needs x amount of press fit if it is going into a soft plate, and y amount of press fit if it is going into a hardened plate. Die designers can set up the software so that they can select whether that dowel is going into a hard plate or a soft plate—that's the only interaction required. The software will put the correct hole size in every time."

A New Communication Protocol

Proeber goes on to describe the second method of communicating tolerance and machining information, a new feature for Logopress3: the ability to automatically color the face of a hole when placing the dowel.

"For example," he says, "when we add a dowel to our die design, Logopress3 automatically creates all of the holes at the same time as it inserts the dowel. The user can easily teach the software to automatically color the press-fit hole red, the slip-fit hole green and the drilled holes—such as the counter-drilled clearance for a dowel—yellow. The software then will default to use these colors each time the designer adds a dowel to the die. This same functionality is available for other component holes as well as for wire-EDM openings."

Again, catalogs ease and shorten the die-design process. Proeber provides an example specific to Logopress3.

"The software includes a deep standard-component catalog," he says. "Most unique about this: Not only is the component inserted along with the correct part number and supplier name, but doing so cuts the holes into all of the affected plates of the solid-model assembly. For example, when inserting a nitrogen cylinder, the stroke of the cylinder is entered by the user and the cylinder dynamically changes in the graphics window. When the designer clicks the Okay button, the software creates the cylinder and the holes at the correct depths, and creates the clamping screws at the same time."

Software also can aid in saving time by eliminating the need to repeat tasks. A new Logopress3 tool called "Copy A Set Of Components" can copy a stack of components along with their related openings and holes to another location in the die. This is ideal in cases of multiple identical forms located on different sections of the tool. And noting yet one more time-saving feature in Logopress3, Proeber calls out the command "Save With New Project Name." This finds use when the designer creates a new die similar to a previous die. The command saves an entire design as a new job with a new job number.

With so many job-assisting features in new software, Proeber advises designers not to fear 3D design, as it offers vast improvement over its 2D counterpart.

"A misconception among die designers not yet using 3D die-design software is that there is not much benefit in having 3D software for their type of work," he says. "This is more often the case for companies creating tools for simple parts with just a few linear bends. In fact, most automation tools in 3D die-design software are available whether you are working with a complex-shaped automotive part or a simple part with linear bends. During modeling of the die assembly, detail drawings are automatically created in the background and only require a bit of tweaking to finalize them. The bottom line: Designing a die using 3D parametric die-design software takes a fraction of the time required when using 2D software."

One Interface for Prog and Transfer


The ability for software to adapt to a variety of die and forming needs brings flexibility, which can significantly ease a designer's challenges. Suppose one job must be performed using transfer dies, and the next one using progressive dies, and the one after that using both. The ability to design for progressive- or transfer-die work in the same interface reduces the learning curve and eliminates waste associated with switching software or carrying multiple suites and having to become familiar with all of them.

Enter CimatronE 11, now available from Cimatron Technologies Inc. (www.cimatrontech.com), based in Novi, MI. The software allows for transfer- and progressive-die design.

"In some cases, in the same job, work must be performed in a progressive die, and at the end of a prog. stage the next phase of work must be done via transfer dies," explains Hari Sridharan, Cimatron's vice president of engineering. "CimatronE 11 makes it convenient for the user by combining progressive- and transfer-die design in a single interface."

This feature also comes in handy should design ideas change midstream.

"At the beginning of a project, designers may decide that a part is ideal for transfer, but at some point a progressive-die option is considered," explains Sridharan. "Now they don't have to scrap the transfer design and start over. They can switch it over within the same interface."

A single interface for differing die types fits in well with the CimatronE 11 suite, which, through its CAD/CAM capabilities, promises the ability to navigate a project from quoting and design all the through manufacturing. And should changes be required, the new ECO Manager reportedly offers effective assessment and seamless incorporation of any number of engineering changes in an existing project.

The new software version also enables concurrent work by several designers; a new nesting tool for transfer-die projects; and a new springback-analysis tool designed to reduce the need for time-eating shop-floor iterations. Each of these innovations lets designers create and not become bogged down in monotonous keyboard tasks that only add time and aggravation to a project.

"Robust software combined with computing power eliminates steps and increases speed from the beginning to the end of a project," Sridharan summarizes. "A designer recently told me that five years ago it took 25 steps to accomplish a certain task in the software, and today it takes just five steps. It's not that 20 steps have disappeared, but those steps have been automated."

MF
See also: Accurate Die Design Software, Inc., 3D Systems/Cimatron Software, ETA Dynaform, LOGOPRESS, TST Tooling Software Technology, LLC
Related Enterprise Zones: Software, Tool & Die
---
Reader Comments
Posted by: Guadalupe on 1/2/2018 8:55:15 PM - URL: http://Humancoder.com/
I loved as much aѕ you ᴡill receive carried οut right here. The sketch is tasteful, yօur authored material stylish. nonetһeless, you command ɡet bought an nervousness ovcer tһat you ѡish be delivering the folⅼowіng. unwell unquestionably come fᥙrther fοrmerly agaіn аs exactly the sаmе nearly very often іnside cаse you shield this hike.
---
Posted by: Camilla on 1/2/2018 5:46:02 PM - URL: http://captchaboss.com/
І am curious tto find out wһat blog ѕystem yoᥙ ɑre utilizing? I'm experiencing ѕome minor security probⅼems with my lаtest site andd І woᥙld like to find sometһing mоre safeguarded. Ɗ᧐ yοu һave ɑny suggestions?
---
Posted by: Angelo on 1/1/2018 7:30:37 PM - URL: http://trickeye.com/seoul/tw/FindUs
I'm still wondering why they gave us such a big room.
---
Posted by: Cheri on 12/31/2017 3:52:09 PM - URL: http://expertdecoders.com
continuously і used to rеad ѕmaller posts tһat as well clpear their motive, аnd that is aⅼѕߋ happening with thiѕ paragraph wһіch I am reading ɑt thiѕ time.
---
Posted by: Shiela on 12/31/2017 3:29:27 PM - URL: http://expertdecoders.com
I dօ bekieve ɑll tһe ideas yoᥙ һave presented in үour post. They are very convincing and wіll certаinly work. Stiⅼl, tһе posts aгe too quicfk fⲟr newbies. Cօuld you ρlease extend tthem ɑ bit fгom subsequent time? Thankѕ for the post.
---
Posted by: Levi on 12/31/2017 12:46:17 PM - URL: http://www.instinctif.asia/index1.html
Since launching in 2008, we have developed an excellent network of supporters, advocates and favored reputation across Mainland China, Hong Kong and overseas.
---
Posted by: Agueda on 12/31/2017 2:15:00 AM - URL: http://captchaboss.com
Outstanding quest thеrе. What occurred аfter? Take care!
---
Posted by: Clara on 12/30/2017 6:34:20 AM - URL: http://captchaboss.com
Very nice post. I juѕt stumbled upon your weblog and wished tо say tһat І have truly enjoyed surfing аround your blog posts. Aftеr alⅼ I'll be subscribing to your feed and Ι hope yоu ѡrite again sоon!
---
Posted by: Oliver on 12/29/2017 9:15:14 AM - URL: http://captchaboss.com/
Ievery time spent myy half аn h᧐ur tо read thіѕ blog'ѕ articles daily along wіth a mug of coffee.
---
Posted by: Shasta on 12/13/2017 3:40:38 PM - URL: http://captchaboss.com/
Pretty! Thiis һas been ɑn incredibly wonderful article. Тhank ʏoᥙ foг supplying tһeѕе details.
---
Posted by: Fletcher on 2/22/2017 1:50:25 PM - URL: http://ow.ly/WGDg309ePZl
I do not know specifically what aspect of Ireland but she was Protestant and hated Catholics.
---
Posted by: Noe on 1/25/2017 5:56:09 AM - URL: http://bangaloreinterio.com/content/what-seo-why-you-ought-understand-seo
Every weekend i used to go to see this site, because i wish for enjoyment, for tthe reason that this this website conations genuinely nice funny information too.
---
Posted by: Jackson on 12/20/2016 5:23:13 PM - URL: http://www.primesquaream.com/index.php/component/k2/itemlist/user/471714
Hey! I know his iis somewhat off topic but I was wondering if you knew where I could get a captcha plugin for my comment form? I'm using the same blog platform as yours and I'm having problems finding one? Thanks a lot!
---
Posted by: Lane on 12/19/2016 7:15:05 AM - URL: http://www.gervaisgroup.com/?option=com_k2&view=itemlist&task=user&id=343201
If some one wishes to be updated with newest technologies afterward he must be ppay a quick visit this site and be up to date every day.
---
Visit Our Sponsors