Tooling Article
The Modern Day Die Setter
Thursday, September 1, 2011
Professionalism in any field requires continuous improvement of knowledge and work habits. There simply is no substitute for good work habits. Shortcuts intended to make a job easier soon become bad habits. And specifically in the pressroom, shortcuts taken during die setup can lead to catastrophic damage to dies and presses, as well as serious or fatal injury to press operators or other pressroom personnel.
Historically, shops expected their die setters to set up each die and help train press operators on how to produce quality stampings using safe operating practices. Today's die setters, however, have become talented and multiskilled technicians. They do everything from setting up and running unattended press operations to performing equipment maintenance, part-quality assessments and simple die-repair tasks.
Some dies require installation and adjustment of in-die apparatus such as tapping heads, clinch-nuts, stud feeders and in-die welding.
Where Do Die Setters Come From?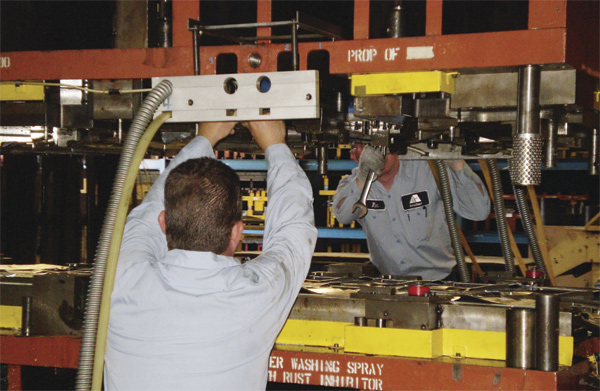 A large progressive die with four in-die nut feeders is shown being set up at Anchor Mfg., Cleveland, OH.

The common reply to this question has been, "We get them from wherever we can." The most desired means for metal stampers is to nurture die setters from within, by conducting in-plant training to upgrade current employees who have shown initiative and ability. Another alternative: Hire die setters previously trained by other companies, even if on different equipment.

Historically, new die setters received only basic, practical, on-the-job training. Among contract-stamping shops, there are few, if any, die setters coming from formal classroom-type programs that include a properly prepared curriculum. This, however, is beginning to change.

In 2008, the U.S. Department of Labor (DoL) approved a new apprenticeship standard for the "Press Setup Operator—Stamping" occupation under the National Institute for Metalworking Skills (NIMS) National Guideline Standard for Competency-Based Apprenticeships. As a result, stamping companies now can register apprenticeship programs for their press-setup operators and technicians with the DoL as competency-based programs.

Federal rules require that all apprentices participate in related instruction. The rules suggest that apprentices take at least 144 hr. of related instruction/yr., which many apprenticeship programs choose to require. The rule does not specify who may provide related instruction or that the instruction be provided by an accredited body.

Typically and traditionally, related instruction has been classroom training. Community colleges often play a large role in providing related classroom training for apprenticeship programs. These courses typically are offered through a college's continuing education department, and may be taken as credit courses in an individual's pursuit of an associate's degree. The new federal rules also support the use of technology-based and distance learning for the related instruction.

Fig. 1

The apprenticeship must address core competencies as determined by an expert panel from the industry, while allowing individual companies to add additional competency requirements to reflect their own business requirements. Workers completing these apprenticeships and who demonstrate proficiency against a set of core competencies receive nationally recognized certification.

The "Press Setup Operator—Stamping" apprenticeship program joins five other machining and machine-building apprenticeships recently approved by the DoL (Fig. 1).

Die-Setting Standards—Why?

Most companies use engineering, industrial engineering or pressroom foremen to establish setup standards and time allocations. Yet, some companies lack such setup standards; they misguidedly believe that setup standards have no bearing on wages or bonuses, so why bother?

Influencing wages is not the only reason for establishing good die-setting standards and practices. Such standards and practices allow stampers to measure die-setter performance and die-setting efficiency. And with the advent of computer-aided press controls, documentation of all setup parameters has become a necessity.

Reducing or eliminating die setup has become a priority for many major OEMs. Some OEMs, in fact, no longer allow their suppliers to charge for die setups. Their rationale: setup costs will never be reduced or eliminated if suppliers are reimbursed for them. In other words, when a supplier cannot charge for its die-setup time, they become highly motivated to reduce setup times down to a matter of minutes.

Lean and SMED

Single-minute exchange of dies (SMED) is one of the many lean-manufacturing methods for reducing waste during stamping production. It provides a quick and efficient of changing over a manufacturing process from the current product to running the next product. This rapid change-over allows stampers to minimize production-lot sizes and reduce work-in-process (WIP) inventory.

The phrase "single minute" does not mean that all changeovers and startups should take only one min., but that they should take less than 10 min. In other words, a single-digit minute.

What simple procedures can a stamper and its die setters take to accomplish SMED? For starters, maintain dies at a common shut height. This avoids the need to adjust shut height when changing dies. If it is not practical to use a common shut height for all dies, aim for a common shut height for those dies that get moved in and out of the press most often.

Dies also should be set up to run at a common feed or passline height. Generally, this should be as high as possible. Presses operated near their maximum shut-height adjustment maximize adjustment-screw engagement. A common passline height will avoid the need to make vertical adjustments to the feeders or loaders in coil- and blank-fed presses. Also, making the passline height as high as possible provides for steep scrap chutes to optimize scrap discharge.

Die Clamps, Counterbalance Pressure, etc.

A die-clamp standard can save time by eliminating decisions at the press, such as which stud or finger clamp is needed, as well as clamp placement. Optimize the use of a die setter's time by creating a die-change tool kit that contains everything needed. Another setup-time reducer is use of automated clamping mechanisms that require very little adjustment, with as few tools as possible. Magnetic die holders also are available for stamping presses, completely eliminating the need for clamps. These permanent-magnet die holders are failsafe—electric power is only used to turn them off.

An often-overlooked step during die setup is the adjustment of counterbalance pressure. When the counterbalance air-pressure setting is too high, excessive clutch wear can result. Meanwhile, low pressure settings can lead to excessive brake wear and can cause the brake to dangerously overheat. Safe press operations require that the counterbalance have enough capacity to hold the slide, the upper die and its attachments at any point in the stroke without the brake applied. In almost every plant, the die setter's safety and accident-prevention responsibilities include installation of protective devices, and checking and adjusting the devices to ensure that they work properly. The press counterbalance system is no exception. MF
Related Enterprise Zones: Sensing/Electronics, Tool & Die
---
Reader Comments
Posted by: Christie on 1/25/2018 9:26:37 PM - URL: http://weightlossoffers.org/revolutionary-cleanse/
I was able to find good information from your blog posts.
---
Visit Our Sponsors