Article
---
---
Everything a Sheetmetal Fabricator Needs to Know about Punch Press Tooling
Thursday, September 01, 2011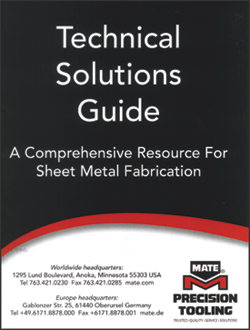 …lies within this comprehensive 72-page technical-solutions guide published recently by Mate Precision Tooling, Anoka, MN. Included are techniques and recommended procedures for setting die clearance, calculating punching force and performing punch and die maintenance. Readers also will learn how to punch small-diameter or narrow holes without experiencing machine or tooling complications.
Included is a nine-page Tips & Techniques chapter that informs fabricators on forming of raised beads, using stroke control to achieve consistent form height, shaving to make straight-walled holes without drilling and how to establish a draft angle when forming tabs to eliminate binding, among numerous other applications. And, a two-page Troubleshooting Quick Reference Guide provides possible causes and suggests solutions for excessive burrs, poor hole quality, punch galling, rapid tool wear and workpiece marking, among other problems.
Mate Precision Tooling: 763/421-0230; www.mate.com
See also: Mate Precision Tooling
Related Enterprise Zones: Fabrication, Tool & Die
---
Reader Comments
Posted by: Jenn Davies on 4/8/2015 4:30:48 PM - URL: http://www.metalfab.com/
Thanks for the review! Sheet metal punching is definitely a specialized field. I think a lot of companies are wary to start anything that requires a lot of experience. Resources like these can speed up the learning process for everyone.
---
Posted by: Jim Tracy on 2/10/2015 9:41:51 AM
I think that punch press tooling could be really helpful for sheet metal fabrication. I've never really heard about it before, but I really like the idea of it. I think it could definitely help speed up the process. http://www.metalfab.com
---
Visit Our Sponsors