Article
---
---
Press-Brake Bending--Methods and Challenges
Friday, August 01, 2008
---
A reproducible and reliable press-brake process relies on the combination of the press brake and its tools. A press brake consists of two robust C frames forming the sides of the machine, connected on the bottom by a massive table and on the top by a moveable upper beam, though the opposite configuration is possible. The bottom tool rests on the table while the top tool attaches to the upper beam. With hydraulic press brakes—the majority of machines produced these days—the upper beam moves via two synchronized hydraulic cylinders attached to the C frames.
Characteristics that define press-brake capabilities include pressure or tonnage, working length, distance to the backgauge, work height and stroke. The speed at which the upper beam operates usually ranges from 1 to 15 mm/sec.
Increasingly, press brakes feature multi-axis computer-controlled backgauges, and, to make adjustments during the bending process, mechanical and optical sensors. These sensors measure bending angle during the bend cycle and transmit data real-time to machine controls, which in turn adjust process parameters.
Ultimately, press-brake bending is a combination involving the geometry of the top tool (with the punch angle and punch-tip radius the most important parameters), the geometry of the bottom tool (the width of the V opening, the V angle and the bending radii of the V opening in particular), and the pressing force and speed of the press brake.
Types of Bending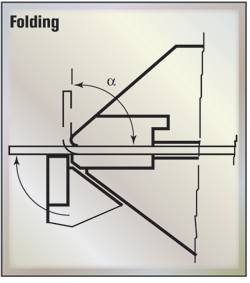 Fig. 1

Folding—When folding, the longest leg of the sheet clamps between clamping beams, then the bend beam rises and folds the extending sheet part around a bend profile (Fig. 1). In today's bending machines, the bend beam can form upward and downward, a significant advantage when creating complex parts with positive and negative bend angles. The resulting bend angle is determined by the folding angle of the bending beam, tool geometry and material properties. Bending via folding offers a significant advantage in that large sheets can be handled relatively easily, making this technique simple to automate. Also, with folding, the risk of damage to the sheetmetal surface is minimal. One limiting factor of folding: The movement of the bend beam requires the necessary space and throughput time.

Wiping—When wiping, the sheet again clamps between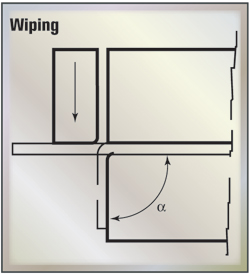 Fig. 2
the clamping beams, after which the tool bends the protruding part of the sheet around the bend profile by moving up and down (Fig. 2). Wiping, though faster than folding, increases the risk of scratches or other damage to the sheet as the tool moves over the sheet surface. This is especially true if bending involves sharp angles. This technique finds use for making panel-type products with small profiled edges. Using special tools, wiping can be readily accomplished on press brakes.
Bending Variations
In bending, a distinction can be made between four variations: air bending, bottoming, coining and three-point bending. Characteristic of these: The sheet is pressed by a top tool into the opening of the bottom tool (Fig. 3). As a result, sheetmetal on each side of the bend is lifted, causing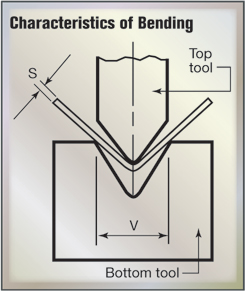 Fig. 3
problems such as sagging and folding with large sheets. In that case, folding or wiping is preferred, although sheet-follow supports also can be used with the press brake to alleviate this. Where bending involves positive and negative angles, folding offers more flexibility. The significant advantages offered by press brakes are increased speed and flexibility.
Air Bending—With air bending, the top tool presses a sheet into the V opening in the bottom tool to a predetermined depth, but without touching the bottom of the tool (Fig. 4). This is a type of three-point bending, where only the bending radii of the top and bottom tools contact with the sheet. The punch radius of the top tool and the V angle of the bottom tool need not be the same. In some cases, a square opening replaces the V opening in the bottom tool—especially given today's adjustable bottom tools. The combination of top and bottom tools, therefore, can be applied universally, meaning that with a single combination, various products and profile shapes can be produced simply by adjusting the press-stroke depth. In other words, with a single combination of tools, multiple materials and thicknesses can be bent in a range of bend angles. This makes air bending a highly flexible technique.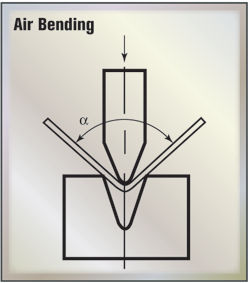 Fig. 4
It also means that the number of tool changes can be limited considerably, enhancing productivity. Another advantage: Less bend force is required, meaning less bulky tools and resulting in extra allowance in product design.
One limitation of air bending: It is less precise than processes where sheet fully maintains contact with tooling. The stroke depth must maintain high accuracy, and variations in sheet thickness and local wear on the top and bottom tools can result in unacceptable deviations. Variations in material properties also affect the resulting bend angle due to springback. To achieve maximum angle accuracy with air bending, a value is applied to the width of the V opening, ranging from 6S (six times material thickness) for sheets to 3 mm thick to 12S for sheets more than 10 mm thick. A rule of thumb: V=8S.
Air bending boasts angle accuracy of approximately ±0.5 deg. Unlike with bottoming and coining, bend radius is not determined by tool shape, but depends on material elasticity (Fig. 4). Normally, the bend radius resides between 1S and 2S. Based on its flexibility and relatively low tonnage requirements, fabricators are moving more toward air bending as the preferred forming technique. The disadvantages of this technique related to quality are remedied by taking special measures—angle-measuring systems, clamps and crowning systems that are adjustable along the x and y axes, and wear-resistant tools.
Bottoming—Bottoming, a variation of air bending, presses the sheet against the slopes of the V opening in the bottom tool (Fig. 5), with air between the sheet and the bottom of the V opening. In this case, the punch radius and the V-opening angle are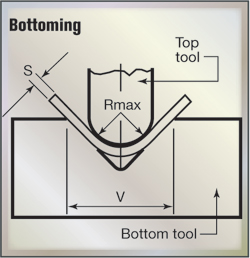 Fig. 5

directly linked, meaning that bottoming does not offer the same flexibility as air bending. Every bend angle and every sheet thickness requires a separate tool set, and the same often applies for different materials due to springback differences and compensation required in the tool. For bottoming, the optimum width of the V opening (U-shaped openings cannot be used) is 6S for sheets to thicknesses of about 3 mm, increasing to 12S for sheets more than 12 mm thick. Again, the rule of thumb: V=8S. The minimum acceptable bending radius for sheet steel ranges from 0.8S to 2S, although material quality plays a role. And with soft materials such as copper alloys, the radius of the bend angle may be much smaller—a lower limit of 0.25S is possible.

For larger bend radii, bottoming requires tonnage roughly the same as for air bending for larger bend radii. Smaller radii require force as much as five times greater when bottoming. This brings the advantage of greater accuracy. The resulting bend angle is wholly determined by the tool, with the exception of springback, for which a correction can be made. Note that bottoming results in less springback than when employing air bending. Theoretically, angle accuracies with bottoming approach ±0.25 deg. But because control and adjustment possibilities on press brakes have increased considerably, even on less-expensive machines, air bending increasingly is preferred to bottoming.
See also: Wila USA
Related Enterprise Zones: Fabrication
---
Reader Comments
Posted by: Pharmk127 on 12/9/2016 2:12:04 AM - URL: online pharmacy cialis
Hello!
---
Posted by: Pharmg659 on 12/9/2016 2:10:52 AM - URL: online pharmacy cialis
Hello! online pharmacy cialis http://www.cia9online.com/#4.html
---
Posted by: Pharmg893 on 12/7/2016 7:28:22 PM - URL: online pharmacy cialis
Hello!
---
Posted by: Pharmd445 on 12/7/2016 7:27:57 PM - URL: online pharmacy cialis
Hello! online pharmacy cialis http://www.cia9online.com/#4.html
---
Posted by: Pharma97 on 12/5/2016 6:30:52 AM - URL: online pharmacy cialis
Hello!
---
Posted by: Pharma43 on 12/5/2016 6:30:03 AM - URL: online pharmacy cialis
Hello! online pharmacy cialis http://www.cia9online.com/#4.html
---
Posted by: Pharme428 on 12/4/2016 12:32:12 AM - URL: cialis online pharmacy
Hello!
---
Posted by: Pharmc967 on 12/4/2016 12:31:51 AM - URL: cialis online pharmacy
Hello! cialis online pharmacy http://www.cia9online.com/#4.html
---
Posted by: Johnd903 on 12/3/2016 8:50:05 AM - URL: Cheap goods
Please add more movies related to cooking if you have, because I wish for to learn more and more about all recipes of cooking. ddedcddeddec
---
Posted by: hamid ardestani on 10/15/2016 12:47:33 PM
hi i want to bend a closed profile of a rectangle is it possible to do it with a press brake? thank you
---
Posted by: Bettye on 2/15/2016 4:07:09 PM - URL: http://www.ziyanp.net/Guestbook/
Oh my goodness! Incredible article dude! Many thanks, However I am encountering difficulties with your RSS. I don't understand the reason why I can't join it. Is there anybody having similar RSS problems? Anyone who knows the answer can you kindly respond? Thanx!!
---
Posted by: Sherlyn on 12/25/2015 9:43:17 AM - URL: http://elitecomforthomeandcommercial.weebly.com/
And they are the experience that the company has in the field of plumbing. When these pipes begin to leak, you might not notice right away, even while dripping water is slowly damaging your ceiling and jacking up your water bill. If you talk to plumber to ask questions and make sure you get clear answers.
---
Posted by: J.E.Lotz on 12/11/2013 11:47:02 AM
Who is the author of this article?
---